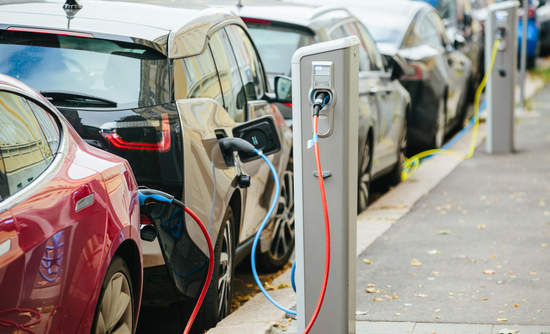 Electric mobility is fast emerging as the leading path to help the world transition into a low-carbon, clean and sustainable economy. India too has planned its green journey by including EVs in its policy to lower carbon emissions while providing convenient and cost-effective mobility. This has led to emergence of unprecedented opportunities in the sector.
"We need to have right infrastructure and charging stations so that consumers don't face issues. We're on the cusp of many kinds of opportunities as well as challenges in terms of renewable energy," said Nishant Arya, Executive Director, JBM Group.
Aiming to exploit the early-mover advantage, Panasonic on Wednesday launched Nymbus, their electric vehicle charging service in Delhi NCR, in collaboration with e-mobility service providers Smart and Quick.
According to a study, the sale of passenger EVs is expected to outpace the sale of conventional vehicles run on internal combustion engines by 2038. However, much of this growth of EVS in India would depend on the development of charging infrastructure that could provide reliable and affordable power in terms of per kilowatt-hour. The launch of Nymbus by Panasonic is, therefore, a giant leap in that direction.
"Panasonic for the first time is venturing into service domain in energy and eMobility. We are creating an integrated common platform to cater to the unsatiated needs of multiple stakeholders and enable faster adoption of EV in the country," said Manish Sharma, President & CEO of Panasonic India.
Panasonic aims to expand its EV charging service to major Indian cities like Bangalore, Hyderabad, Chennai and Pune in the next three years, and across 25 more cities in the next five years.
But the EV adoption is bound to increase in those states where governments have taken a pro-active approach in formulating policies that are not only favourable to companies like Panasonic but also alligned to the sustainability goals set by India.
For example, Karnataka has become the first state to announce subsidy on electric vehicles for the sector to bloom under a comprehensive and well-designed Electric Vehicle and Energy Storage Policy 2017.
"Karnataka's policy framework for electric and sustainable mobility in the fields of electric vehicles, charging infrastructure and battery technology would be a game changer in the Industry and will be a model for other states," said K J George, Minister for Large and Medium Scale Industry, Government of Karnataka, while addressing the Future Mobility Show (FMS) 2019 in Bengaluru in February this year.
The state government also aims to replace 50 percent of petrol and diesel vehicles used by the government staff in Bengaluru with electric vehicles by the end of this year.
States like Delhi, Andhra Pradesh, Maharashtra, Telangana, Kerala, Uttarakhand and Uttar Pradesh have also drafted a medium- to long-term policy to encourage the growth of an ecosystem around electric mobility. These states, therefore, will also be the first to see expansion and adoption of EVs in India and hold the key for the future growth of e-mobility in the country.
Integration of renewable energy into charging infrastructure and measures for cost reduction would also go a long way in ensuring EV adoption happens in India at a fast pace.
According to CV Raman, Senior Executive Director (Engg and R&D), Maruti Suzuki India Ltd, mobility in the future is going to become a service — it could be shared, personal, public, leasing, etc. "We need to look at it from the perspective of making it convenient, safer and affordable," he said.
India also needs to learn from the experience of countries like the UK and China. "We started with our electric journey back in 2015. We were fortunate to secure funds from central government to install charge points for the city. We've installed at least 20 charge stations last year. In terms of realising this project into life we've put in a lot of expertise and sources," said Rasita Chudasama, Principal Transport Planner, Nottingham City Council, UK.
"Our challenge was where to actually put these charge stations. We identified power was one of the biggest constraints and the second aspect to that was reliability of network was critical from the beginning. We were very keen to ensure that whatever we installed was reliable," Chudasama said.