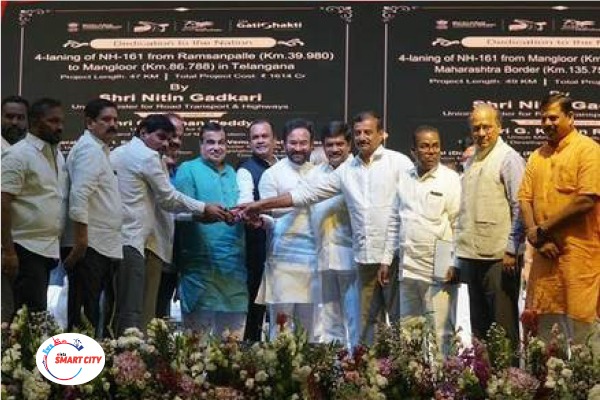 Union Minister for Road Transport and Highways Nitin Gadkari inaugurated 12 National Highway Projects of a total length of 460 km worth Rs 8000 crore and 7 Central Road Infrastructural Fund (CRIF) Projects in Hyderabad in the august presence of Union Minister for Tourism, Culture and Development of North East Regions G Kishan Reddy; Minister of State for Road Transport & Highways Gen V K Singh; Minister of Legislative Affairs and Housing of Telangana Vemula Prashanth Reddy; MPs; MLAs; MLCs and other dignitaries.
The National Highway projects of a total length 460 km with an investment of Rs 8,000 crore will boost inter-state connectivity by enabling seamless travel from Telangana to Maharashtra, Karnataka, and Andhra Pradesh. The fast-paced highway development will boost trade and commerce in the region and create sustainable employment opportunities for the youth.
Also read: Nitin Gadkari inaugurates National Highway projects worth Rs. 4,135.91 cr in Mumbai
Under the leadership of Prime Minister Narendra Modi, the network of state-of-the-art and safe National Highways built will have a transformational impact on the socio-economic prosperity of the people in Hyderabad and Telangana.
(With inputs from PIB)