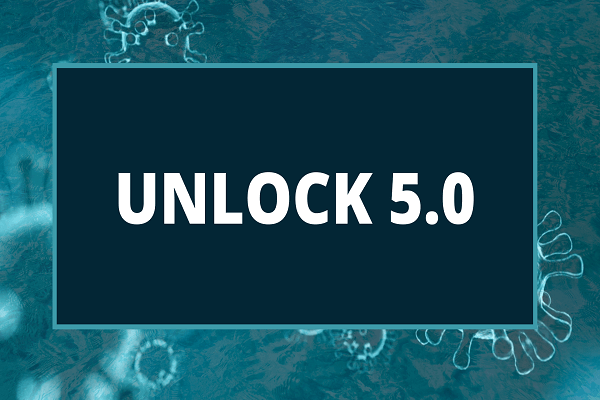 In another phase of relaxation from the lockdown norms, the Unlock 5.0, the Ministry of Home Affairs released a new set of guidelines on September 30 which will come in effect from October 15.
Unlock 5.0 Guidelines
As per the newly released guidelines, the Centre has given a nod to reopen cinema halls and multiplexes with 50 per cent capacity from October 15. Also, outdoor gatherings have been allowed but with 50 per cent capacity, added the guidelines. All the relaxations are applicable only to the non-containment zone areas.
However, a major announcement was that the Centre gave a nod to reopen schools and asked the states and union territories to take decisions as per the scenario in their states. The latest guidelines also allow PhD and post-graduate students of science and technology streams requiring laboratory work to resume their work in their colleges. However, the decision to open all colleges for al students "may be taken" by the Department of Higher Education in consultation with the Home Ministry.
Considering the relaxations given for outdoor gatherings, the MHA has allowed gatherings, both outdoor and indoor beyond 100  persons outside the containment zone, while, the decision for allowance lies with the State/UT Governments. However, as a mandate by the guidelines, all in a gathering, whether indoor or outdoor, must be wearing masks and people have to abide with social distancing norms and other COVID-related safety protocols.
Also Read: What impact has COVID-19 had on the data breach landscape?
Guidelines also give a go-ahead for holding business to business exhibitions. Moreover, swimming pools "being used for sportspersons" are also permitted to open, as are entertainment parks. But, all of these will have certain SOPs issued by their governing ministries and will be permitted to open from October 15 ensuring that the SOPs are followed.
With relaxations now have been given for activities, social gatherings, etc. what still remains locked are international flights, except "when permitted by the MHA". India already has air bubble arrangements with 13 countries.
As a major decision, elaborating on reopening of schools, the MHA announced that the decision lies with the state and UTs depending on the scenario in their regions. Moreover, the reopening decision will be taken in consultation with the respective school/institution management, based on their assessment of the situation as well.
Also Read: HERE & UNL collaborate to fight COVID-19 using location-based technology
However, as per the ministry, online learning shall be the preferred mode of teaching and shall be encouraged.
The Home Ministry said, "Where schools are conducting online classes, and some students prefer to attend online classes rather than physically attend school, they may be permitted to do so. Students may attend schools/institutions only with the written consent of parents. Attendance must not be enforced, and must depend entirely on parental consent. States/UTs will prepare their own SOPs regarding health and safety precautions for reopening of schools/ institutions based on the SOP to be issued by the Department of School Education and Literacy (DoSEL), Ministry of Education… keeping local requirements in view."