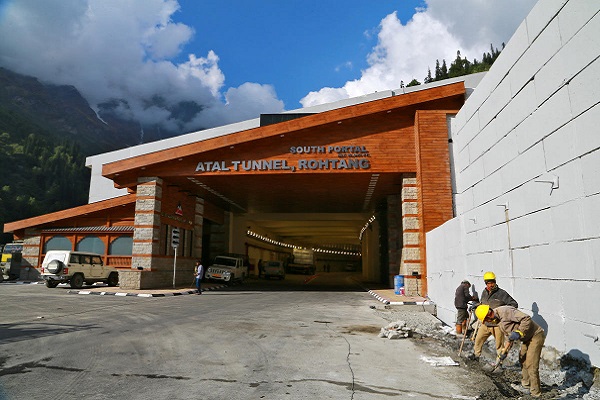 In another step towards development, Prime Minister Narendra Modi inaugurated the world's longest highway tunnel 'Atal Tunnel' in Himachal Pradesh's Rohtang today. The tunnel, built by the Border Road Organisation (BRO) at the altitude of 3000 meters, connects Solang Valley near Manali to Sissu in Lahaul and Spiti district. At the inauguration ceremony, Defence Minister Rajnath Singh, Chief of Defence Staff General Bipin Rawat and Army Chief General MM Naravane accompanied the PM.
With the construction of the Atal Tunnel, the distance between the two connecting points has been shortened by almost 46 km and has reduced the travel time from four hours to 15 minutes. Atal Tunnel is a double-laned tunnel and can handle around 3,000 cars and 1,500 trucks per day, with a maximum speed of 80 km per hour.
"Atal tunnel will add strength to India's border infrastructure. It is an example of world-class border connectivity. There have been demands to improve border infrastructure but for a long time, such projects either couldn't get out of the planning stage or got stuck midway. Connectivity is directly proportional to development. Connectivity in border areas is directly related to security issues", said PM Modi during the inaugural ceremony.
Further, the PM also added that the emphasis has been laid on the development of border infrastructure and Its benefits are being extended to the common people and our armed forces personnel as well.
Also Read: PM Modi to inaugurate 6 mega projects under NMCG 
"BRO completed construction of Atal Tunnel within its estimated cost of construction. This tunnel is dedicated to the soldiers guarding our borders & those living near border areas", said the Defence Minister, Rajnath Singh.
The bridges on rivers on the approach road to the tunnel from both the north and south portals have been completed and are now being painted. Also, snow galleries have also been built at the approach road to the tunnel from Manali side. The approach road will ensure all-weather connectivity. Moreover, an emergency escape tunnel under the main tunnel has also been constructed. Considering safety and security, the tunnel also provides a telephone at every 150 metres stretch, fire hydrant in every 60 metres, an emergency exit every 500 metres, turning cavern every 2.2 km, equipment for air quality monitoring in every one km, a broadcasting system and automatic incident detection system with CCTV cameras at every 250 metres.