Japanese co to help make Ahmedabad traffic 'intelligent'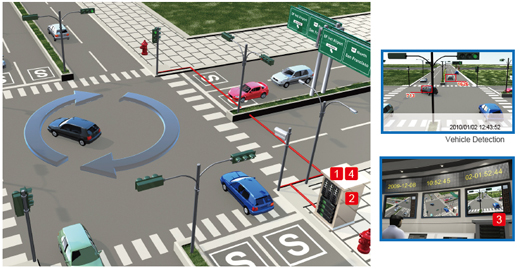 Traffic in Ahmedabad will get a new definition with Zero-Sum Intelligent Traffic System (ITS) traffic management firm teaming up with Nagoya Electric Works of Japan for implementing a pilot ITS project for a cost of USD one million.
In October, the 132 feet wide road near Indian Institute of Management, Ahmedabad is said to be used for the pilot project. The road would see installation of cameras and electronic information boards to give information to commuters about traffic flows and congestion levels.
If the pilot project turns out to be a success, Zero-Sum has planned to repeat the feat across the country within a year.
According to Chikara Kikuchi, MD, Zero-Sum ITS, "Traffic congestion is major urban challenge in the country and being the world's second most populated country does not help. The cities are not planned; there is no concept of lane driving."
His firm Zero-Sum ITS is currently focusing on medium-short term results with its ITS solutions and is working with Nagoya Electric Works Ltd with funding from Japan International Corporation Agency (JICA).
He added, "We chose Ahmedabad, due to the investment friendly business atmosphere in the state of Gujarat. The kind of business model being showcased by our pilot project which incorporates an ad-revenue model built into the solution was being implemented for the first time in an ITS solution in the country and the Ahmedabad Municipal Corporation (AMC) was willing to try this model on a pilot basis to explore the benefits that our ITS solution can bring to the city of Ahmedabad with no cost or expenses incurred by them," Kikuchi said adding that Ahmedabad, at the moment, has very little traffic management infrastructure in comparison to larger cities such as Delhi or Mumbai.
The firm has received approval from AMC and identified the 132 Feet ring road (approximately a 10 km stretch) of Ahmedabad for the implementation of the project.
Some of the key features of this ITS would include, collating of traffic information from various sources such as camera based traffic volume sensors and traffic police, then processing the collected information (which is sent to a cloud based control center) to understand the traffic flow and congested areas in the target area. The ITS solution will display the processed information on to huge (7 x 3 meters) electronic information boards 200 meters before every traffic light. This information will aid motorists in making decision on which roads to avoid and taking up alternate routes to reach their destination.
"On completion of the trial, we can replicate the model across the entire city of Ahmedabad within six months of receiving approval from the Municipal Corporation. Similarly, we will be ready to implement our solution across any city in India within a span of six to 12 months of receiving approval from the local municipal corporation depending upon the size of the city and the number of installations that need to be done," Kikuchi said.
He added that from Zero-Sum's estimation, a city like Ahmedabad would ideally need atleast 100 Variable Messaging Sign (VMS) information boards and around 200 cameras to be installed for city wide coverage. The current pilot project in Ahmedabad is being implemented at a cost of USD one million for four VMS boards and 14 Cameras.
In the trial project Zero-Sum ITS will bear the entire cost of the project, its implementation and maintenance. Revenue will come from the advertising rights that Zero-Sum will receive to advertise on 50 per cent screen space of the ITS boards.