Chinese cos to bid with Indian cos for high-speed rail projects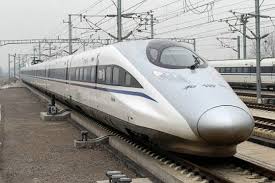 Indian and Chinese firms have come together to bid for five high-speed railway projects in India for which public bidding will soon take place. Tata Projects is in talks with an undisclosed Chinese company that could be one of China's major rail companies, CSR Corp or CNR Corp, though neither company confirmed they were part of the bid.
A senior Tata Projects officer said his company has previously cooperated with CSR on a train project in Navi Mumbai. He added, "We like to use China's technology and products because they are proven to be reliable and the cost is relatively low. Although Chinese companies face competition from Japanese and European counterparts, they have advantages in rich experience and lower cost in the high-speed railway sector."
The report has come after Japan announced financial, technical and operational support for bullet train projects in India during the current visit of PM Narendra Modi to Tokyo.
The news of Chinese investments in Indian railways came during the meeting between Indian Commerce Minister Nirmala Sitharaman and her Chinese counterpart Gao Hucheng. China is expected to unveil its investments in India during President Xi Jinping's visit to New Delhi, scheduled for the third week of this month.
Sitharaman told media that India wants Chinese investments and expertise to upgrade the existing tracks to increase the speed of the trains up to about 160 km besides modernising stations. On asking whether India is open for bullet trains from China, she stated, "I would not close the door but what exactly it is going to be and will it work out at all will be worked out by the railways."
A researcher at the Institute of Comprehensive Transportation at the National Development and Reform Commission, said, "China's Yunnan province is the gateway to South Asia and geographically close to West Bangladesh, and has a lot of potential to enhance business cooperation and tourism exchanges with East India. As the China high-speed railway network grows, choosing Chinese technologies and products should be beneficial to a developing nation such as India or Turkey, because it offers competitive prices and timely after-sale services."