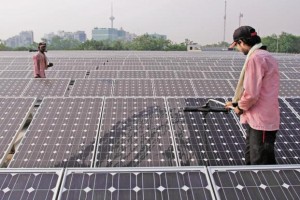 Owing to increasing power cuts, businesses in India, which were forced to buy costly back-up generators, are turning to build their solar plants. As such, ValueLabs, an Indian IT firm, has built its own solar plants to counter constant electricity cuts. In July, the company finished building a 13 megawatt solar plant which has the capacity to power about 6000 homes.
Krishna Reddy, a senior ValueLabs executive, said "We plan to use the entire quantum of power generated from these plants in the coming years for our existing and upcoming campus."
As per Bridge To India, New Delhi based consultancy, companies have installed over 30 MW of rooftop solar panels in the last year. This is a small amount compared with India's solar capacity of 2,700MW. However, the demand may accelerate as renewable energy has got priority under the leadership of Prime Minister Narendra Modi.
Sujoy Ghosh, India head of US-based First Solar states, "With the new government coming in, we see a clear intent to further increase allocation of solar in the energy mix."
Even big corporation like Infosys, India's second-largest IT exporter, is building a 50 MW solar plant in Karnataka to meet 30 per cent of the company's power needs.
While India's overall installed capacity has risen 20 per cent in the past three years and peak- hour shortfalls have eased, not enough power reaches end-users due to rickety transmission lines, and when it does, supply is often fickle.
States in the arid north and west are building big solar plants, though smaller commercial projects are cropping up across India, where nearly all states enjoy year-round sunshine
However, in growth economies, finding ways to cut back on oil imports, costs are high and solar is only part of the answer. ValueLabs spent 1 billion rupees (USD 16.3 million), which it expects to make back in eight years. It is still keeping its back-up generators. The Kanpur-based Indian Institute of Technology is installing rooftop solar panels but sill about 70 percent of its energy will still come from conventional sources.
Despite Modi's plans to target up to 100,000 MW of solar generation by 2022, far more than an existing 20,000 MW target, India remains heavily reliant on conventional thermal energy.
For now, individual companies believes that it is falling panel prices and government subsidies that have made solar more appealing.
Kalpana Jain, Senior Director, Deloitte India, says, "The economics of doing this has improved. If you can get solar at a reasonable efficiency level…then it makes sense to have it as a main power source and have the grid as a backup."
Securing stable demand is also not easy — a pitfall illustrated in China's huge solar market, where insufficient subsidies and poor infrastructure imply demand has not kept pace with supply.
India's electricity distribution companies, which have been directed by government to keep prices low, have little incentive to buy renewable energy — roughly 15 per cent pricier than thermal — because they cannot pass this on to consumers. But for companies, choosing solar is still better than the alternative.