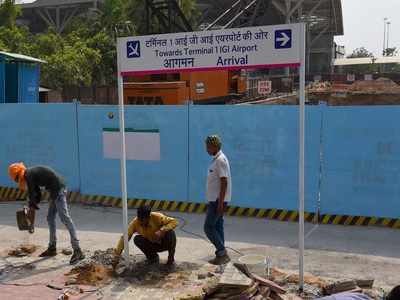 Delhi Metro Railway Corporation (DMRC) is constructing a subway that will connect the Terminal 1 of the Indira Gandhi International Airport (IGIA) and the Magenta line metro station at the national capital airport. The project is estimated to be completed by July 2019.
The 370-metre subway will connect the DMRC Magenta line metro gate to the arrival and departure gates of the Delhi airport's Terminal 1.
There will be two entry and exit points of the subway at the arrival and departure terminals. Each point will be equipped with two elevators and escalators each along with staircases.
The subway will also include elevators with a capacity of 26 people and travelators. According to the DMRC officials, almost 60 percent of the work has already been completed.
The metro station was opened in May last year which has entry and exit gates near Terminal 1-D and Terminal 1-C, the commuters had to walk a distance of 200 to 300 metres to reach the metro station, causing inconvenience. The subway is expected to ease the process.
Although the project was earlier aimed to be completed by January this year, owing to certain ordeals during the construction such as encountering a hard rock, the deadline had to be extended.
According to DMRC estimates, there is a footfall of about 66,000 passengers on the IGI T1 airport metro station every day out of the estimated 1,75,000 passenger footfall on the Terminal 1 of the Delhi airport.