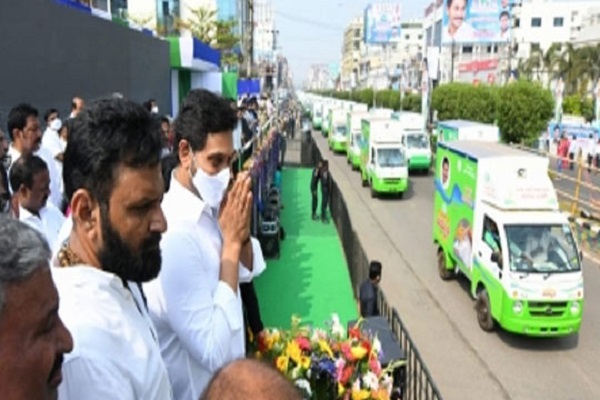 The Government of Andhra Pradesh has launched a new initiative to deliver ration provisions to the beneficiaries at their doorstep through mobile delivery vehicles every month. The initiative is being considered as the first of its kind public distribution system in India.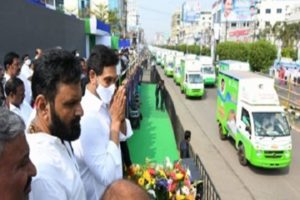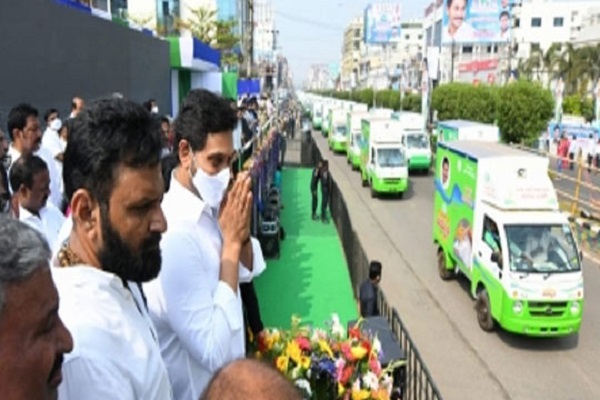 At a cost of Rs 830 crore annually, 9,260 vehicles are being deployed to deliver ration provisions to the beneficiaries at their doorstep. Naming these vehicles as Mobile Dispensing Units (MDUs), Chief Minister YS Jagan Mohan Reddy flagged off 2,506 of these at Vijayawaday's Benz Circle on January 21. The MDUs will will begin distributing the ration provisions from February 1.
The state government paid Rs 539 crore towards the subsidy for 9260 vehicles and provided these to the unemployed youth of SC/ST and backward classes through a 60 per cent subsidized loan. These MDUs are specially designed vehicles for weighing and distribution of provisions.
Also Read: Andhra Pradesh CM proposes 'concept cities' in Vizag, Tirupati and Anantapur
Each MDU costs Rs 5,81,000 of which the government pays Rs 3,48,000 as subsidy component and the owners have to pay Rs 58,000. Moreover, the state civil supplies department will pay the rental for 18 days a month, a part of which will be paid towards bank EMI and the maintenance cost to the owner.
As per a government release, the SC Corporation has been provided with 2,300 vehicles, while, ST Corporation with 700 vehicles. BC Corporation gets 3,800, Minority Corporation 660, and Economically Backward Corporation gets 1,800 vehicles.
Also Read: Andhra Govt releases 186 crore for Smart City projects in Visakhapatnam
Civil Supplies Minister Kodali Sri Venkateshwara Rao (Nani) and other ministers, MLAs, MPs, officials and the collectors of Krishna, Guntur and West Godavari A. Md. Imtiaz, Samuel Anand and Revu Mutyala Raju respectively, were present at the event.