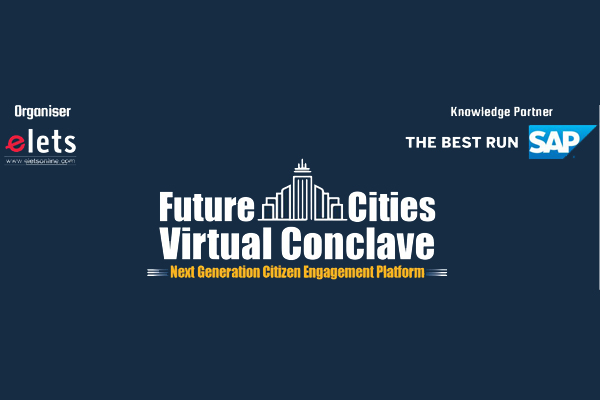 Elets Technomedia in association with SAP India organised 'Future Cities Virtual Conclave' on July 24. The Conclave focussed on how future cities need to be more citizen-centric and engage citizens actively in governance. Also, how technology is facilitating governments to make their systems more citizen-friendly and improve service delivery took the centre stage during the discussions.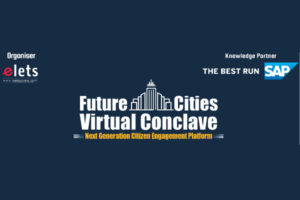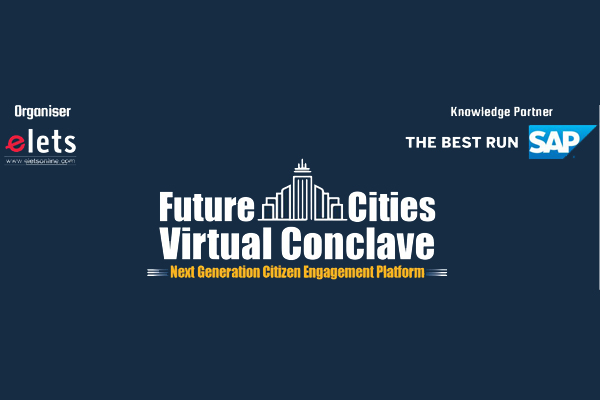 It saw the participation of policymakers, industry leaders and intelligentsia portraying their take on cities for citizens. The conclave had a total of three sessions. Sujit Patheja, Director – Smart Cities & Urban Governance, SAP India in his introductory address said, "Citizen feedback forms a significant part of the smart cities but in the due course of time the focus has been shifted from citizen to city administration. We need to get back to citizens." On this note, Mr Patheja set the agenda for the Future Cities Conclave and threw open the forum for discussion for the panellists.
Mike Eberhardt, Global Industry Principal Public Sector, SAP Customer Experience, SAP Switzerland commenced by saying that the Coronavirus pandemic has pushed the governments to indulge in online services to keep the functions ongoing and citizen services.
Addressing the core theme Mr Mike said, "To make India citizen-friendly at a level we expect is a challenge… We need to look at what are the issues citizens face while paying taxes, taking govt services, and other things." Further, he said, "People do not need too many apps in their phones but easily accessible services." Moreover, today the cyberattacks have been increased and there is an urgent need to consider the safety and security angle as well, he added.
Citing an example of a Nordic country, Mr Mike said, "We used Alexa for the chatbot and that eased the communication and processing for the citizens." However, raising concerns over security he added, "For sure Alexa is not completely safe and we are looking for better options but by that time Alexa serves the purpose."
Stating that citizen engagement is an ongoing process at the frontend, he added that there are more aspects like sales, service delivery, etc. on the frontend as well. Further, Mr Mike suggested, "It is important to bring in IoT, machine learning, AI, etc. to improve the system and reduce cost and time that we put in while operating traditionally in a pen-paper manner."
Kathleen O'Brien, Global Industry Principal, Public Sector, SAP Australia presented a project they took up and on its success, she said, "We are making strides to provide solutions to our government clients."
Elaborating on the project and its functionality, Ms Kathleen said, "The dashboard we offer for citizens is a one-stop-shop for the citizens to all govt service like license renewal, medical support, trade license, water connection, etc… Our focus has been that the online platform or the application we offer is clean, easy to use and can be used in various devices for the convenience of the people."
Also Read: Smart city is formed with Smart Citizens
Adding on she said, "We also have a unique consent driven delegation model which has been developed to ease operating online services and platforms by the old aged people. This model also includes services and permits and licenses for the aged people. And the son or daughter of the parent can take out the pension money, apply for services and drive processes for their parents on consent-basis. Hence the portal offers a holistic approach for citizens."
On how technology can aid citizens she said, "Digital service means it reduces the face to face engagement and reduces 80 percent of the time that we spend on the traditional pen-paper based services".
Session 2 witnessed insights from the policymakers and the government's perspective on improving the citizen-government relationship and strengthening bridging the communication gap. Dr Kajal, Director, Urban Local Bodies & Mission, Director, Smart Cities Mission, Government of Uttar Pradesh stated that with the onset of smart cities, the government has been able to reach out to citizens in a more effective manner." Actually, engaging citizens goes beyond one way communication, she added.
Adding on, Dr Kajal said, "The citizen engagement is a process wherein the government makes an announcement, every citizen has to understand and then they have to cooperate at a common point for effective decision making and policy formations." However, "We have reached up to a point that the citizens have organised themselves in different ways and groups and through smart cities, we have now ICT to communicate with them answer their grievances and involve in a  two-way communication process", she added.
Further, Dr Kajal raised concern about a need to look at the aspect that if we are able to cater to the marginalised and the vulnerable groups. Putting forward a suggestion to bridge the gap between citizens and the government Dr Kajal said, "The civil society organisations and NGOs can be roped in to improve the citizen engagement."
Charulata Somal, Managing Director, Karnataka Urban Infrastructure Development & Finance Corporation (KUIDFC) laying emphasis on the democratic government in India and the engagement of citizens in the governance said, "We have elected representatives not only in the centre but in states and at the ULB levels. Moreover, in an industrial setup, we have workers union, associations and so on. These are all a part of the citizen engagement network."
Focussing her words on making cities citizen-centric, Ms Charulata said, "We as a system must be in a position to listen. The citizens must feel that they are being heard by the system." However, "we need to make people understand that we do listen to everyone but not everyone can be satisfied with the decision or a move", she added.
Ms Charulata emphasised on building a consensus among people and termed it a major challenge. She said that there are different groups, associations and a right for one can be antagonising for the other. Hence, not all can be on the same page but just like democracy decision on maxim can be an option getting the consensus among people. "If people know that they are being heard and if there is a genuine effort to answer their grievances, people will remain patient", she added.
Mahesh Moroney, CEO, Nagpur Smart & Sustainable City Development Corporation Ltd. started off by defining the smart city as per his paradigm. He said, "The definition of a smart city which I like the most is the city for the people, of the people, and by the people."
Exploring the other side of the theme, Mr Mahesh said, "In India, the citizens must learn the skill of active citizenry. Citizens must be active when it comes to development matter." Citing an example of Nagpur itself, Mr Mahesh said, "In 2012, the mayor of Nagpur appealed all the association, NGOs, organisations to come forward to help in cleaning and rejuvenating the river Nag. Immense participation was seen from the people and the organisations. It was so that when the rain came, no expenses were paid by the Nagpur corporation and everything was covered under the collection of funds from the people for the river. That's how successful citizen engagement can get."
Supporting Ms Charulata's point, Mr Mahesh said, "Administration must be good listeners." However, citing challenges he also raised that citizens willingness is also lacking, adequate representation is lacking and the voice of the marginalised is not allowed to come up… Another big challenge is to simplify the systems and there should be some common guidelines and rules to ease up processes."
He concluded his address by saying, "We need to go beyond the citizen engagement and rethink our model of governance. We need a model which is more inclusive, transparent and communicating wherein citizens are being consulted on a regular basis."
Professor A K Gupta, Additional Director, Regional Centre for Urban and Environmental Studies (RCUES), Lucknow picked up points where the ULBs have not been empowered to work independently even after the 74th amendment. Prof Gupta said, "In the 74th amendment the ULBs have been given 18 functions but the functions have not been transferred to the ULBs till now."
Presenting his take on citizen engagement Prof Gupta said, "Not only in the smart cities mission but in JnNURM scheme also the government had introduced community participation." Adding on the development of a more citizen-centric system he said, "We need to use tech like ICT to engage citizens in governance decision making. We need to explore how we can engage people and identify projects after consultation of the citizens."
Citing an example of MyGov, Prof Gupta said, "Like MyGov which the Government of India has launched can be taken as an example and on the similar lines such a portal can be launched in our smart cities which not only includes citizens' feedback option but also citizen consultation option."
Rajeev Singh, Vice President and Business Head Public Services, SAP India stated that for citizens, the first experience of governance is ULB. So the citizen makes an opinion about his /her local government. He also mentioned about how ICT driven systems adopted in city governance are benefitting in bridging the communication gap between the citizens and the government.
Taking the discussion towards the stakeholders like B2B organisations and firms he said, "When we talk about citizens we also need to consider other stakeholders like B2B because those are the entities who play a very important role."
Session 3 saw a presentation from Renae Rowland, Public Sector ICX, Offering Owner, DXC Technology Australia Christchurch City Council on their Citizen Engagement Project. Highlighting the project's vision she said, "Our vision is to make it simpler for the citizens to interact with their council. We used automation to increase efficiency, reduce citizen call back and provided more choices to the citizens."
Further in her presentation, she talked about tools used and project's features. Ms Renae said, "SAP Citizen Engagement Accelerator was one of the solutions which allowed the citizens to pay taxes, bills, apply for licenses, water connection, and more such services online. Moreover, they can check the status of their requests raised… GIS integration was used which eases the citizens to raise complaints like – if there is trash at someplace, citizens can open the map select the location pin and directly lodge a complaint regarding the same." Adding on, Ms Renae explained, "For services, there is a form which the citizens need to fillup and the form automatically goes to the respective department for action. Also, there are payment options for services wherever required and review option as well."
Sudhakar P Venkatesan, Industry Business Architect, SAP India took up a live survey of the attendees to get answers on what the people's perception is about the citizen engagement topic. He put forward general objective questions like the challenges that the authorities would be facing to set up a platform for two-way communication, what should be the focus and features of such a platform, and so on. The attendees answered live and based on the number of answers the percentage of what people expect from a citizen engagement platform for was shown.