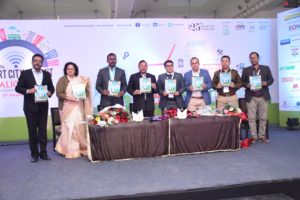 Calling inter-department cooperation necessary for the implementation of Smart City projects, the Divisional Commissioner of Aligarh Santosh Kumar Sharma said that "all the concerned departments should converge well. All the schemes should be made available at a common platform so that city can be made clean. Traffic management should be there in the cities."
He was inaugurating the Smart City Summit, Aligarh along with Ankit Bahl, Advisor, Trade and Investment, Embassy of Estonia; Sachin Gaur, Project Coordinator, India EU Cooperation on ICT- Related Standardisation, Policy & Legislation and Harshita Bhatnagar, National ICT expert, Asian Development Bank.
"There is a need for Solid Waste Management, Smart administration, proper drainage systems to make a city smart. We are implementing projects worth Rs 209.41 crore in Jama Masjid and Naqvi Park areas. We are also undertaking Rs 476.45 crore e-governance and traffic management projects in the city," added Sharma.
Organised by Aligarh Municipal Corporation in association with Elets Technomedia Private Limited-a technology and media reasearch based company, the conference was attended by Gaurav Antil, Joint Commissioner, Municipal Corporation of Gurugram, Ravi Kumar, Deputy general Manager, Bharat Electronics Limited and Awaneesh Sharma, Commissioner, Moradabad Municipal Corporation
From the private industries, there was participation from Eon electronics who expressed their wish to be a part of Aligarh Smart City and Hyderabad-based Automative Environment Solutions.
There was a round table conference between Aligarh Smart City officials and private companies' representatives.
This was 25th Smart City Summit organised by
Elets
.