The Delhi Integrated Multi-Modal Transit System Ltd performs lot many roles with only one objective in focus to  keep people going, says DIMTS MD & CEO Sanjiv N Sahai in a conversation with Nayana Singh and Rama Sinha of ENN
Tell us about the origin and core operations of DIMTS.
The Delhi Integrated Multi-Modal Transit System Ltd (DIMTS) came into being as an effort of collaboration between the Delhi Government and a not-for-profit organization, the Infrastructure Development Finance Company  Foundation (IDFC). Essentially, the engagement of the IDFC and DIMTS was to provide an enabling environment to enhance managerial competence. Management company tools were included, so that DIMTS was not hamstrung and had the agility and flexibility that the private sector has, and at the same time, it displayed the accountability of  the public sector.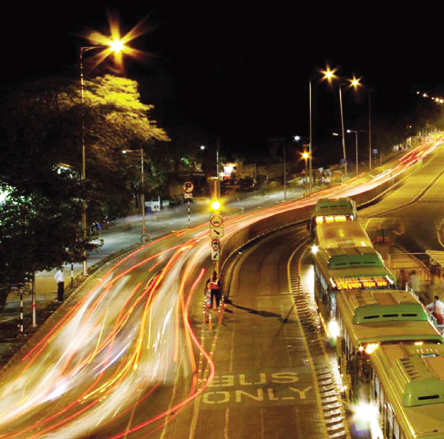 DIMTS has evolved well in the last seven years. The work of the organisation includes Intelligence  Transport System (ITS), advisory services (doing feasibility studies for projects), help structure PPP projects for concession agreements, financial modeling, contracting etc. We also have an engineering division  which is engaged in detailed engineering draw- ings, designs, feasibility studies, soil investigation and project  management.
What is the contribution of DIMTS to the transportation sector?
The railways division of DIMTS provides engineering services to railways sites such as track alignment. A very  important component of DIMTS is our transportation and traffic studies where we have lots of simulation about various cities. We have come up with Comprehensive Mobility Plan, looking at the cities as a whole. For example, if  people have to wait at a certain traffic junction, then how it would affect the traffic at the given location can be  simulated. Once the then united Municipal Corporation of Delhi (MCD) wanted to construct an underpass at Dayal Chowk. We did a simulation and showed to the government that the underpass would actually worsen the traffic situation at a couple of more places. On seeing the simulation, they shelved the project, thus saving the government an unnecessary expenditure of `70-80 crore. In this case, the intervention of the DIMTS helped the Delhi  Government.
DIMTS acts as programme manager for the transport department also. The orange colour busses  running in Delhi, which are about 1,200 in number, are functioning under the Cluster Bus Scheme. The entire scheduling, fare collection, service level management and on-time performances are taken care of by us. We monitor and manage them.
It is done through an intensive IT system, which helps about 1.2 million or 12,000,00 passengers travel conveniently every day. This system is far more efficient than the DTC buses even cost wise. We  also do Intelligent Signalling. This is being done in a number of Indian cities, apart from the BRT Corridor in New  Delhi.
" …Public transport should be used for bulk of trips. Studies show private vehicles generate 25 percent of the air pollutants… We should try to bring about a shift in the mindset of the people, so that they get ready to use public   transport in day-to-day life "
Tell us about the online initiatives of DIMTS and how they benefit the people.
DIMTS has started several online initiatives so as to make travelling easier for the people. The bus info application is for those multitudes of people who commute by buses every day. Our GPS- enabled transit mode will prove useful for all bus users, including the relatively new users. As you enter one of the bus junctions, it will give you all  the relevant details, like expected arrival time of the buses, available routes, fares, etc.
DIMTS has also introduced user-friendly applications like Tell Tail. The panic press button is another such application. There are many such applications available in the market. But our application's uniqueness lies in the fact that one does not have to have a GPS-enabled phone. If a Delhi public transport commuter just informs about the vehicle number to someone in  which he or she is traveling, that person can keep a track of that bus' whereabouts. It lessens the anxiety and this  information is very useful for the relatives and friends to locate the traveller.
You have served the government sector in various capacities. Has your experience of working with the government sector complemented the DIMTS role?
99 percent of the people working in DIMTS come from the private sector. This segment of the workforce does not understand government processes. My previous work experiences with the public sector have helped me develop a  deep understanding of the work procedure followed by the government sector.
Also, I am well-known in the  government circle, which helps me in my communications with them. There is a trust factor which is a natural  outcome of working together for several years. A person from the private sector may have found it a little difficult, especially in the initial stages.
DIMTS has been created in a way that it as benefits of both public and private   sectors. We have the talent pool of the private sector and the accountability of a government organisation. That accountability comes from the Board of Directors, which includes the Chief Secretary as its Chairman, and the Principal Secretary as its Member Finance. I think this kind of model works well. Old school audits or vigilance approach cannot work in these models. So, the DIMTS model works best.

What kind of work has DIMTS done in the other states of India and abroad?
We have moved ahead as an organization and established our reach in a number of Indian cities and even abroad. We won the bid for designing the BRT Corridor in Addis Ababa, Ethiopia after rejecting bids from the UK and Germany. We are providing Intelligent Signalling in Surat, Rohtak and in a few towns of Madhya Pradesh. A lot of advisory services are also being provided to the Himachal Pradesh monorail project by us. We now want to spread  our wings as well as share our leanings with others. DIMTS has become a model of study for many foreign  countries. Recently, we received delegations from Sri Lanka and Egypt. Some of the delegations were sponsored  by the World Bank.
What is your vision for the transportation sector and what is the roadmap for its development?
Our vision is that the public transport should be used for bulk of the trips. Studies show private vehicles generate 25  percent of air pollutants. Our dream of sustainable inclusive development can be achieved only through public transport. Every living city has public spaces, like parks, city centres and other public areas for social interactions. We should discuss and try to bring about a shift in the mindset of the people, so that they get ready to use public  transport in day-to-day life.

Get a chance to meet who's who of Smart Cities ecosystem in India including key policymakers from Central and State Governments. Join us at Smart City Summit, Surat on 19th-20th May, 2018 to explore business opportunities. Like and connect with us on Facebook, Linkedin and Twitter.
Recommended from all portals