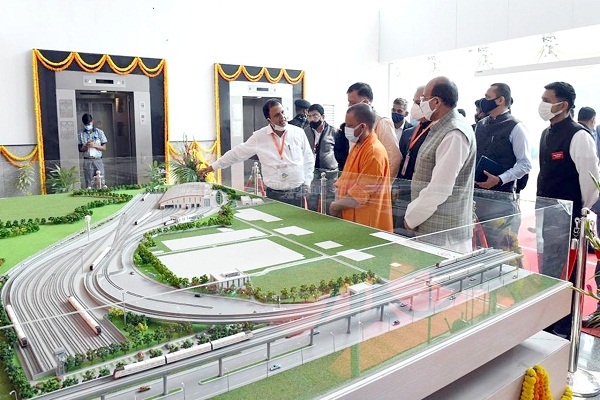 After Lucknow, another city of Uttar Pradesh became smarter with smart transport. Aiming to boost the development of Kanpur and restore its 'industrial charm', Chief Minister of Uttar Pradesh Yogi Adityanath started the trial run of the Kanpur Metro Rail held at the Metro depot on November 10.
"Kanpur, located on the banks of the holy river Ganga, was not able to develop as per its potential. The Mega Metro Rail project will redirect the city on the track of growth and development," said the CM during the event of the trial run.
The CM further added that the rise in pollution and technological changes in the textile industry and neglect of the previous governments made the city lose its sheen, turning into one of the most polluted cities in the country.
"The Metro services will not only provide best facilities to the people of Kanpur and will ease their daily lives but will also help in eliminating vehicular congestion, thereby controlling the pollution in the city," he added.
Expressing gratitude to Prime Minister Narendra Modi and the central government for Kanpur Metro, the CM said, "It is under PM Modi's guidance that Uttar Pradesh is going to be the state to have metro services in five cities. It will be our endeavour to complete the trials within the next four to six weeks so that the metro services can be availed by the people as soon as possible."
Hailing the efforts of the Uttar Pradesh Metro Rail Corporation (UPMRC) for enabling the trial run of Kanpur Metro in less than a stipulated time frame, the CM said, "I would like to congratulate the officers of the Uttar Pradesh Metro Rail Corporation for their extraordinary achievement despite the COVID-19 pandemic and the people of Kanpur for the metro services that will soon be available for them."
The trial run of 'Kanpur Metro' was scheduled in mid-November but got preponed adding a new chapter in the urban transport of the state.
During the event, the Chief Minister also had a glance at the Kanpur Metro and inspected the facilities available in the metro coaches as well as the arrangements for the platforms.
The construction work of the Kanpur Metro Rail Project was initiated by the Yogi-led government on November 15, 2019.
In the first phase, Metro will run on the 9 km priority corridor. Nine Metro stations have been constructed so far. The second phase of Metro work would be carried out between Motijheel and Transport Nagar for which underground stations will be constructed.
As per plans, on becoming fully operational, six metro trains will run on the priority corridor between IIT and Motijheel and two trains will remain parked in the depot as a reserve. Six more trains will arrive in the city by the time the commercial operations are launched.