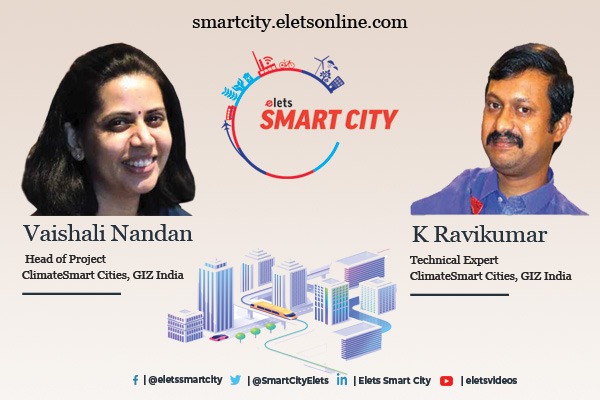 One-third of the total population in India lives in urban areas and by 2050 half of India's population will reside in urban areas. If we visualise urban areas, especially the older parts of any city in India, the first things that come to mind are dense buildings, basic services like water, sanitation and electricity, proper connectivity, etc. but rarely do we think about green spaces or the availability of adequate trees or urban forests in the centre of town, write Vaishali Nandan, Head of Project, ClimateSmart Cities, GIZ India and K Ravikumar, Technical Expert, ClimateSmart Cities, GIZ India.
Coimbatore is a fast-growing city and urbanisation has taken its toll on the green spaces located within urban areas. Currently, 36 per cent of the total area of the city is under green cover in Coimbatore, however, the variations across different zones give a totally different picture with the highest zone having 45.8 per cent and the lowest at 25 per cent of the total area of the zone¹.
Green cover and green spaces are essential environmental resources that need to be preserved for the ecological well-being of every city, contributing to lowering temperatures in the surroundings, enhancing air quality, buffering noise pollution, preserving water bodies and conserving ecology and biodiversity. The presence of urban forests also aids in strengthening biodiversity in neighbourhoods and most importantly, guards against extreme climate change impacts and preserves as a recreational and social spaces for the city.
In fast-growing cities, land is a precious commodity and green spaces are usually the only areas easily available for conversion into residential, commercial or other uses. Hence, SDG 11.7 gains special importance as it addresses the need to provide universal access to safe, inclusive and accessible, green and public spaces, in particular for women and children, older persons and persons with disabilities by 2030². SDG 11.7 will also support India in its contribution to the achievement of the Nationally Determined Contributions (NDCs) targets and move a step closer to net-zero. The government and city administrations are committed to preserving and protecting urban green spaces and need solid implementation plans and support.
The Ministry of Housing and Urban Affairs (MoHUA), Government of India jointly with Deutsche Gesellschaft für Internationale Zusammenarbeit (GIZ) GmbH, Germany, 'ClimateSmart Cities (CSC)' Project funded by the German Federal Ministry of Environment, Nature Conservation, Nuclear Safety and Consumer Protection (BMUV) initiated the "ClimateSmart Cities Assessment Framework" (CSCAF) as a step towards holistic, climate responsive development for cities in India. NIUA is an implementing partner on the GIZ-CSC project. The CSCAF is divided into five categories with 28 indicators and 'Urban Planning, Green Cover & Biodiversity' are one of the five categories. Initiated in 2019, the CSCAF 2.0 covered 128 cities and the CSCAF 3.0 is expected to be launched soon. As a part of the assessment framework, cities are provided with their current standing with recommendations to improve to the next level in all categories including Urban Planning, Green Cover & Biodiversity.
As a part of the GIZ technical support under the CSC project, the Coimbatore City Municipal Corporation (CCMC) and GIZ have undertaken various studies on the urban green cover and Open Spaces in the City of Coimbatore. The studies show that Coimbatore has 36 per cent of green cover³ in the city and 0.25 per cent of the area with 313 number Open Space Reservation (OSR) areas⁴. As part of the recommendations under one of the studies, afforestation of vacant land/ OSR areas are recommended through Registered Charitable Institutions/ Resident Welfare Associations (RWAs)/ NGOs/ Companies (under CSR fund) on a sponsorship/adoption basis called Adoption policy or program. The objective of the Adoption program is to create a dense urban green cover within the city limits; reduce the development and operation and maintenance costs for CCMC and ensure maintenance of green areas. CCMC is developing these urban green spaces through the 'Miyawaki Plantation Method⁵' across the city and 100 reserved sites (OSR) spread over the five zones of the city are planned to be developed using this method. A Memorandum of Understanding (MoUs) is signed between the CCMC and the Association of Organisations/ Companies/ NGOs/ RWAs coming forward to develop and maintain the Miyawaki tree plantation with defined Terms of Reference for a defined period of two years. At present, 34 OSR sites have already been allotted to various organisations in order to establish the mini urban green spaces.
Another methodology adopted by CCMC jointly with GIZ – CSC project, for solving the urban green space challenges in the city was the use of 'Urban Design Thinking (UDT)' methodology with support of Technical University Berlin (TU Berlin), an implementing partner under the project. The urban design thinking method is aimed at imagining climate-sensitive urban design from a user perspective and developing prototypes for a bio-park concept for the Marutha Nagar OSR site in the west zone of the city. As a part of this methodology, a series of workshops were conducted with a group of interdisciplinary city-level stakeholders resulting in co-creation, peer learning and knowledge exchange between the participants. Locally suited prototypes that are inclusive, gender-sensitive, use native species and address the local sensibilities of green, blue and social infrastructure were developed to mitigate climate change and resolve the issue of urban green spaces. One prototype was finally selected and a pre-feasibility report is under preparation with the hope that the concept will be replicated in other OSRs in the city.
In order to further institutionalise its efforts, CCMC in 2021 formed a 'City Climate Alliance' with various city- level stakeholders, including government organisations, private organisations, NGO's, RWAs, and International organisations. The City Climate Alliance will help the city to move towards climate awareness, planning & action and will ensure the overall sustainability of its efforts. The CCMC envisages that the City Climate Alliance will become a platform for advising on all climate change-related mitigation and adaptation actions for furthering the Climate Action Plan of Coimbatore and for supporting the ClimateSmart Cities Assessment Framework.
Also Read | Urban Sanitation Raising the bar
AS is evident from the example of Coimbatore and its methods to increase urban green cover, it is possible to use various planning techniques in order to achieve SDG 11.7. All cities will need various innovative solutions and proper implementation plans for mitigating and adapting to various vagaries of climate change. Proper planning based on adequate data and the use of local solutions accompanied by co-creation and peer learning amongst stakeholders can be some of the ways to help increase urban green cover in cities and achieve their SDG targets and improve the ranking in the next round of CSCAF.
---
1. GIZ, 2020
2. Goal 11 | Department of Economic and Social Affairs (un.org)
3. GIZ, 2020
4. GIZ and Tamil Nadu Institute of Urban Studies (TNIUS), 2019
5. The Miyawaki Plantation method is an afforestation technique pioneered by Japanese botanist Akira Miyawaki, that uses native species to build dense, multi-layered forests with a shorter period.