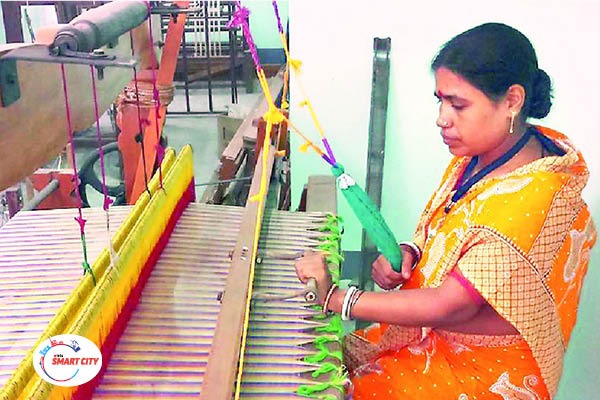 Opportunities for handloom weavers in the state, Uttar Pradesh Government has decided to provide over one lakh sarees to Banking Correspondent Sakhis, popularly known as BC Sakhis, designed by NIFT Rae Bareli.
To promote the handloom industry, the UP government will provide two handloom sarees to the women working under the BC Sakhi scheme as a uniform. For this, the government will buy the sarees made by the handloom weavers.
The weavers involved in the work will be paid Rs 750 per sari as wages through DBT.
KP Verma, Managing Director, UP Handlooms informed that each of the 58,000 women working as BC- Sakhi will be given two saris by the government.
The designs sent by NIFT have been already approved by the Chief Minister and the work of weaving sarees is under progress.
The cost of each saree amounts to Rs 1934.15 and a fund of Rs 22,43,61,400 has been released to the department for 1.16 lakh sarees and dress materials.
The UP Handloom department has engaged five Producer Companies in this regard of which, 3 are from Varanasi district and one each from Mau and Azamgarh.
Also Read | UP Govt to Create Massive Jobs for The Youth in Handloom & Textile Sectors
According to KP Verma, "Due the Covid-19 pandemic, the handloom weavers faced employment crisis. This scheme, will boost employment opportunities in the sector."
"Also, the scheme has eliminated the role of middlemen and the money is being directly transferred into their bank account. The weavers covered by the scheme are getting maximum benefit," he added.