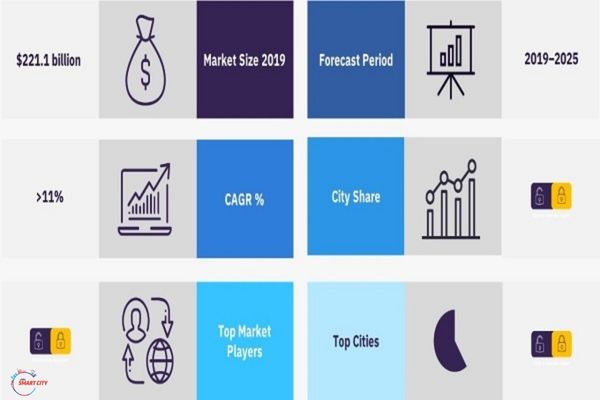 The latest Smart Cities-Thematic Research Report that has been added to Global Data's report store recently, has predicted that the market will record a CAGR of 12% during 2019-2025. According to Global Data, among the other sectors like car, automated home, industrial internet and wearable technology, smart cities sector is viewed as one pivotal market for IoT technology. The experts point out that the smart metering segment alone accounted for 49 per cent of the total spending in the entire smart cities market in 2020.
Market Competitors of Smart Cities
The report highlights major stakeholders comprising both public and private companies, in the value chain operating in smart cities theme. The stakeholder details in the report feature their latest developments and initiatives, shaping the proliferation and expansion of smart cities.
Accenture: In 2021, the company in partnership with the Japan International Cooperation Agency launched a smart platform for Mauritius to support disaster management drive. It also designed an app-based EV charging platform for Free2Move eSolutions, an e-mobility provider in the same year.
Alibaba: headquartered in China, Alibaba's 'City Brain' is a smart platform that can be instrumental in mitigating various urban governance issues such as traffic control and environmental protection. Furthermore, in 2020, Alibaba signed a memorandum of understanding (MoU) with the Saudi Data and Artificial Intelligence Authority to utilize its AI platform to develop solutions for Saudi smart cities and enable intelligent city management.
Honeywell: Honeywell's investment in Trinity Mobility, an India-based provider of smart city platforms, and the launch of its City Suite platform in 2020 have increased its reach in the smart platform's market. The company has also installed a city operations platform and over 6,000 wireless cameras in Egypt's New Administrative Capital in Cairo.
IBM: IBM is capitalising on the growing demand for digital infrastructure in smart cities. In March 2021, IBM launched the Excelsior pass, a blockchain-based digital health pass for New Yorkers that can verify a person's vaccination status. In February 2021, IBM partnered with Siemens and Black & Veatch to push the adoption of technologies such as hybrid cloud and AI in smart cities.
Microsoft: In 2020 Microsoft expanded its strategic alliance with Bentley Systems to explore potential applications of digital twins within urban planning and citizen engagement. Microsoft partnered with YIT to develop digital twins of buildings to improve energy efficiency and services to personnel.
Smart Cities Market Trends
The smart cities thematic research study has recognised some important trends that are likely to impact the growth over the next 12 to 24 months. These trends are anticipated to have a positive influence on the smart cities market growth. The smart cities market forecast report has categorised these trends into various categories.
Technology Trends
The metaverse
Cyber-threats
Digital twins
AI adoption
5G
Surveillance tech
Digitalization
Macroeconomic Trends
The post-COVID smart city
Water shortages
Smart city geopolitics
The Digital Silk Road
Regulatory Trends
COP26 impact on cities
Emerging tech charters
Technology has transformed the administrative and governance aspects of urban areas all over the world. With multinational corporations giving greater push and support to the mission with active support provided by governments, the cities world over will be getting more smarter, and smart cities market will further expand and proliferate.