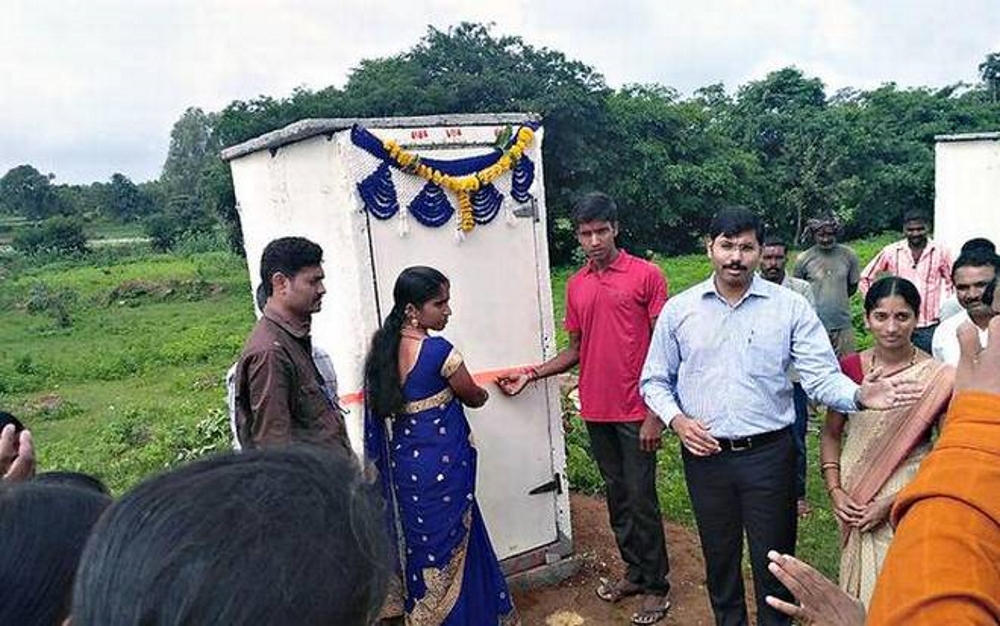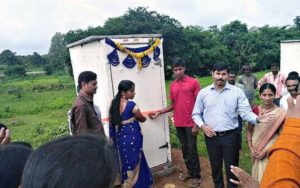 Karnataka leads sanitation drive in India. Kolar district is the first zilla panchayat administration to achieve its 100 percent target part of state development goals. As on October 2, 2017, 11 districts out of 30 in Karnataka achieved 100% targets and these districts are considered as free of open defecation. They are Shivamogga, Chikkamagalu, Mandya, Ramanagaram, Kolar, Hassan, Kodagu, Dakshina Kannada, Udupi, Bengaluru Urban and Bengauru Rural.
HK Patil, Minister for Rural Development and Panchayat Raj, Government of Karnataka, said "We are happy to achieve 100% targets in 11 districts out of 30 in the State. Now, we set March 2018 as new target for achiving 100% results for the remaining districts. I am confident that we shall achieve this too."
On the occasion of Gandhi Jayanthi coinding the completion of three years of Swacch Bharat Mission, Karnataka Chief Minister Siddaramaiah gave an interesting call on all to work towards making sanitation a birth right of all citizens – which has attracted one and all in the State.
Open Defecation
Open defecation is the practice of people defecating outside and not into a designated toilet. The term is widely used in literature about water, sanitation, and hygiene (WASH) issues in developing countries. Open defecation causes public health problems in areas where people defecate in fields, urban parks, rivers, and open trenches in close proximity to the living space of others.
Eliminating open defecation is the main aim of improving access to sanitation and is a proposed indicator for sustainable development goals. Even if toilets are available, people still need to be convinced to refrain from open defecation and use toilets. Therefore, the need for behavioural change is critical in addition to the provision of toilets. A preference for open defecation may be due to traditional cultural practices or lack of access to toilets, or both.
Extreme poverty and lack of sanitation are statistically linked. Eliminating open defecation is said to be an important part of development efforts. High levels of open defecation in a country are usually correlated with a high child mortality, as well as high levels of undernutrition, high levels of poverty, and large disparities between rich and poor.
 About 892 million people, or 12 percent of the global population, practice open defecation. India has the highest number of people practicing open defecation, nearly 525 million people, or over a third of the population. Most of it occurs in rural areas, where the prevalence is estimated at 56 percent of the population, as opposed to urban areas, where prevalence is estimated at 7 percent.
Swacch Bharat Mission
Swachh Bharat Abhiyan is a campaign by the Government of India to keep the streets, roads and infrastructure of the country's 4,041 statutory cities and towns and its rural areas clean. The mission is bifurcated into sub-missions as Swachh Bharat Abhiyan (Gramin), under Ministry of Drinking Water and Sanitation, and Swachh Bharat Abhiyan (Urban), under Ministry of Housing and Urban Affairs.  It includes ambassadors and activities such as a run, national real-time monitoring and updates from NGOs.
The campaign was officially launched on October 2, 2014 at Rajghat, New Delhi, by Prime Minister Narendra Modi. It is India's largest ever cleanliness drive with 3 million government employees, especially school and college students from all parts of India, participating in the campaign.
 The objectives of Swachh Bharat are to reduce or eliminate open defecation through the construction of individual, cluster and community toilets. The Swachh Bharat mission will also make an initiative of establishing an accountable mechanism of monitoring latrine use. The government is aiming to achieve an Open-Defecation Free (ODF) India by October 2, 2019, the 150th anniversary of the birth of Mahatma Gandhi, by constructing 12 million toilets in rural India, at a projected cost of  Rs 1.96 lakh crore.
Sanitation in Karnataka
Belagavi district, which is racing against time to meet its target of building toilets in two lakh households in one year, has successfully completed construction of 40,867 units in five months. It has issued work orders for 95,600 toilets which are expected to be built in the next few months.
The Belagavi Zilla panchayat, implementing the Swachh Bharat Mission, has used some innovative methods to motivate people to build toilets. Officials used Raksha Bandhan where brothers gifted sisters with toilets and organised a felicitation ceremony for pregnant woman who had forced their families to build toilets.
 Belagavi has thus become the fifth district in the State to build the highest number of toilets, after Kolar, Davangere, Hassan and Mysuru. While Kolar built 74,854 toilets in this financial year, Davangere built 65,096, Hassan 63,681 and Mysuru 43,410 toilets.
 According to R Ramachandran, CEO, Zilla Panchayat, Belagavi District, the credit goes to the people of the district. They realised the ill effects of open defecation and opted for construction and use of toilets.
 The CEO monitored the funds allocated and released for construction on a daily basis. "When the progress was slow, I monitored the transactions twice a day. This was communicated to the taluk officers and panchayat development officers. This helped us speed up the pace of construction," the CEO added.