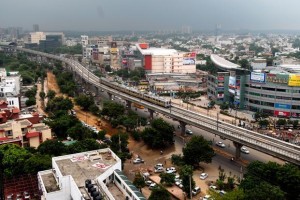 The Haryana Government is likely to include the city of Gurgaon in the race of Smart Cities. As per the Chief Minister of the State, Manohar Lal Khattar, Gurgaon would be one of the two smart cities that would be developed. After PM Narendra Modi's announcement for the India Smart Cities Challenge, Gurgaon and Faridabad are in the run to become smart cities.
One of the officials said that parameters like education, electricity, infrastructure, medical facilities, and water will be taken into consideration during the selection process and by the end of July, the state governments will nominate the cities.
A senior official from the Municipal Corporation of Gurgaon said, "As a result of the haphazard real estate boom, the city is yet to solve its problems of power, water and transport. The basic requirement for a smart city is geographic information system, which is clearly missing in the city." He further added that the ground water level has gone down by 175 feet to 200 feet and the situation is getting worse in Old Gurgaon, where people are relying on water tankers.
Shortage of water and erratic power cuts among other infrastructural developments require about Rs 500 crore to be solved, but funds are not available. The civic body of Gurgaon is also planning a round-the-clock water supply scheme. The city bus service and other transportation plans are also being improved. As for power supply, the Power Grid Corporation of India and Dakshin Haryana Bijli Vitran Nigam have started work on a plan to provide 24-hour power supply on the public-private partnership model. Riley Sutter Womens Jersey