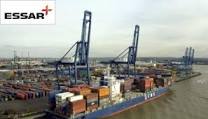 Four projects of the Essar group, which were in limbo for the past several years, have got the green signal now. Essar Ports will be investing Rs 3,000 crore for expansion over the next three years as it has received environmental clearance and legal go-ahead from the Government authorities.
Talking to  media persons, Essar Ports Managing Director Rajiv Agarwal said the company has already spent Rs. 8,000 crore in expansion, and plans to invest  another Rs. 3,000 crore in the next three years to complete these projects. These ports are Vizag, Salaya, Hazira and Paradip terminals.
About Rs 1,200crore expansion plans are scheduled for this year alone, according to sources. This will increase cargo handling capacity by 77 million tonnes per annum to 181 mt annually.  Mr. Agarwal has expressed hope that these projects will diversify the Essar Ports revenue profile by improving the customer mix.
On the west coast, construction of a dry bulk terminal at Salaya received stage one forest clearance, while expansion of the cargo terminal at Hazira got the final go ahead from the environment ministry. On the east coast, construction of a coal terminal at Paradip Port trust is expected to start soon with the Supreme Court dismissing all the petitions filed by port users occupying the land. Further,the High Court of Andhra Pradesh also dismissed court cases by labour unions against the two-phase modernization and construction of iron-ore berths in Vizag by Essar Ports. Calgary Flames Jersey