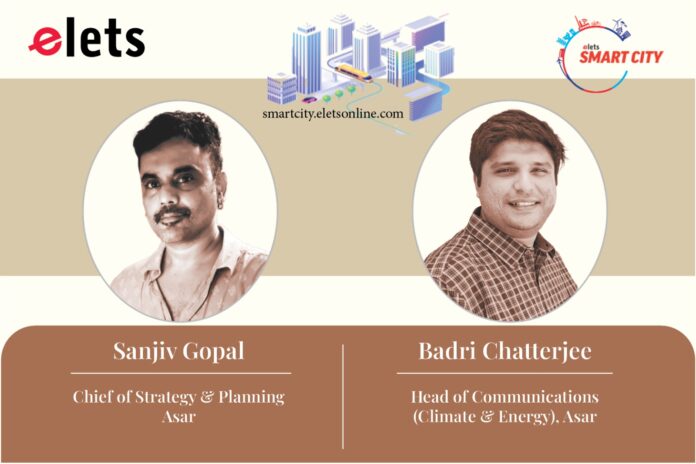 As the world continues to grapple with the complex challenges posed by urbanisation, India stands at the crossroads of this global shift. The nation's cities, characterised by their relentless population growth, are emerging as epicentres of growth and recovery. Indian cities are navigating the intricate intersection of rapid urbanisation, climate change, and economic resilience, drawing comparisons with international counterparts, and spotlighting innovative local initiatives.
The Surge
India's urban landscape is undergoing a profound transformation. With an annual urban population growth rate of 2.7%, the country is witnessing an influx of people into its cities on an unprecedented scale. By 2050, it is estimated that nearly 70% of India's population will reside in urban areas. About 400 million additional people are projected to live in urban areas by 2050, and around two-thirds of the built environment is expected to be constructed by 2030.
This population trajectory presents significant challenges for the sustainability, resource management, and social development of cities. Foresight and pre-emptive planning are critical to avoid exacerbating problems like land degradation, water scarcity, poor air quality, waste management, and, of course, the overarching issue of climate change. Coupled with these problems are opportunities for cities to reimagine planning and development in different and more sustainable ways.
To support achieving India's ambitious net-zero emissions target by 2070, these megacities must play a pivotal role in fostering resilient urban economies. To do this, one must delve into the unique climate and urban issues faced by these cities, seeking long-term solutions while emphasising the importance of aligning with sustainable development goals (SDGs) and timely implementation of city action plans.
Climate Change and Urban Vulnerabilities
Cities across the globe are grappling with the consequences of climate change, and Indian cities are no exception. Responsible for an estimated 75 percent of global energy-related carbon dioxide emissions, cities represent the single greatest opportunity for tackling climate change.
The first step for our cities is to identify and measure where their emissions come from – a process that many cities are already announcing or evolving their climate action plans for.
Indian cities are witnessing urban floods, cyclones, harsh winters, and oppressive heat waves with increasing frequency and intensity. Apart from the loss of human lives and impacts on urban health, these events take a heavy toll on infrastructure, livelihoods, and the general well-being of our cities. What happens in the cities will largely determine the future of efforts to address challenges related to climate change.
To illustrate the point, we can compare Indian cities like Mumbai, which experienced devastating floods in recent years, with international counterparts like New York, which witnessed the destructive impact of Hurricane Sandy. These incidents underscore the urgent need for cities to embrace resilience in the face of a changing climate.
Energy Production and Renewable Resources
Each city's unique challenges demand tailored strategies, but common threads of sustainability, resilience, and innovation run through their action plans. These cities hold the keys to India's urban future, where progress goes hand in hand with environmental responsibility. Energy production is a crucial aspect of urban resilience. Indian cities are exploring innovative approaches to energy generation, including harnessing renewable sources. Rooftop solar is becoming increasingly common in cities like Delhi, where it not only reduces carbon emissions but also creates local employment opportunities. This approach mirrors global cities like Berlin, which have successfully integrated solar power into their urban fabric.
Largest GHG contributors: Buildings, Transport & Waste Systems
Residential buildings, urban transport, and urban waste systems are the primary sources of urban greenhouse gas (GHG) emissions. Addressing these sectors is crucial for achieving economy- wide net-zero emissions, as revealed by a recent assessment of several national and international research studies by the Shakti Sustainable Energy Foundation.
The transport sector, responsible for 10-13.5% of India's energy-related CO2 emissions, faces a 4-6% annual increase in emissions due to rising demand. It requires a 15% contribution to urban emissions reduction by 2050 to limit global warming to 1.75°C. To achieve net-zero emissions by 2070, electric cars must constitute 84% of total car sales. Buildings, responsible for 25% of India's energy use, will see a 700% increase in energy demand by 2050, necessitating a 45% reduction in building sector electricity use intensity. In the waste sector, responsible for 2.7% of India's total GHG emissions, urban solid waste is projected to reach 1.1 million tonnes daily by 2050. Despite its smaller mitigation potential, efficient waste management can yield significant emissions savings.
Notably, decarbonizing the power supply, largely beyond city control, is crucial for urban mitigation. Energy decarbonization contributes nearly half of the total urban mitigation potential among 84 cities, while reducing building electricity demand offers about a quarter of the savings potential.
Localised Food Procurement for Security
Ensuring food security in rapidly expanding cities is a pressing concern. Indian cities are pioneering localised models of food procurement through urban farming, community gardens, and farmers' markets. For instance, Bengaluru has witnessed a surge in urban farming initiatives, enabling residents to access fresh produce within the city. This mirrors practices in international cities like Seattle, where local food movements have gained traction, ensuring safety and security for their citizens.
Battling Urban Challenges Through Sustainable Strategies
India's major cities are grappling with a slew of urban challenges, from air pollution to traffic congestion and climate-related threats. These cities should pursue actionable steps to build a more sustainable future.
Delhi, plagued by hazardous air quality and traffic, should prioritise electric vehicles, public transport expansion, and stricter emissions standards.
Investment in solar energy infrastructure and green urban planning can combat pollution and heat. Mumbai, dealing with rising sea levels and traffic, requires coastal protection measures and improved public transport, including water-based options. Chennai should focus on water management through rainwater harvesting and ecosystem preservation, while Kolkata needs sustainable riverfront development and efficient waste management. Bangalore, a tech hub, can address urban sprawl with smart mobility solutions, green building standards, and green space preservation. Many of these measures are relevant and applicable across each of the cities, paving the way for more sustainable and livable cities in India.
Aligning SDGs with City Action Plans
City action plans should be aligned with the United Nations' Sustainable Development Goals (SDGs) through a participatory process involving local governments, communities, and experts. These plans must include clear targets, performance indicators, and timelines for implementation. Additionally, they should be periodically reviewed and updated to adapt to evolving challenges and opportunities.
Cities also need to transition from linear, consumption-driven models to circular economies that encourage resource efficiency, promote recycling and reuse, and stimulate innovation across industries.
By reimagining waste as a resource, cities could reduce their environmental footprint while creating new economic opportunities. Financial resources play a significant role in implementation. Cities can explore innovative financing mechanisms, such as public-private partnerships, green bonds, and international cooperation, to fund sustainable development projects.
The plans should focus on sustainable transportation, clean energy, water management, waste reduction, and biodiversity conservation. Timely implementation, backed by community involvement and innovative financing, will be key to their success.
In the face of burgeoning populations and climate change, Indian cities could rewrite the narrative of urbanisation – serving as laboratories for creative thinking and innovative solutions. As we look at cities worldwide, it is evident that the urban future is intertwined with the pursuit of sustainability. The challenge lies in harnessing the potential of Indian cities, fostering collaboration, and building a future where cities are not just places of residence but hubs of sustainability and resilience.
Collaboration, Peer Exchanges, and Knowledge Sharing
Even though cities globally account for an estimated 75% of energy-related CO2 emissions, they represent the most significant opportunity to tackle climate change. This demands that city-level governance prioritise action to build resilience against climate change and view it as a fundamental responsibility. A crucial step for cities is to identify and measure the sources of their emissions. Several Indian cities are now making progress in this area, with either existing or evolving climate action plans.
Another vital consideration is the need for networks and platforms where cities and decision-makers can exchange ideas, strategies, and solutions and share best practices.
Initiatives like the Global Protocol for Community-Scale GHG Emission Inventories (GPC) offer supportive frameworks that can be tailored to each city's specific context. In India, the National Institute of Urban Affairs (NIUA) and the World Resources Institute (WRI) have launched the country's first national coalition platform to mainstream eco-based services and nature-based solutions for urban climate resilience.
At the state level, cities could benefit from a common platform where chief executives share best practices and insights related to climate change planning.
Within this operational structure, it's essential to incorporate community input and ensure inclusiveness as fundamental components of the decision-making process. Actively soliciting diverse perspectives is vital; it enriches the discourse and expands the range of potential solutions. Recognizing the unique challenges and opportunities each city faces fosters a sense of ownership and spurs localised initiatives, strengthening grassroots engagement.
Furthermore, many facets of contemporary urban living aren't necessarily aligned with sustainability imperatives. A shift toward environmentally responsible behaviour (ERB) is required in response to the climate crisis. Encouraging practices such as water conservation, waste reduction, greater reliance on public transport, increased use of renewable energy, and promotion of urban agriculture at home will be essential.
When we observe cities around the world, it's clear that resilient urban economies are indispensable for the future. Climate-resilient urban economies will address environmental challenges while simultaneously driving innovation, resilience, and job creation. Embracing sustainability and resilience as core principles is paramount.
Drawing insights from international models and nurturing localised initiatives, Indian cities are well- positioned to make significant advances in this arena.
Views expressed by Sanjiv Gopal, Chief of Strategy & Planning, Asar
Badri Chatterjee, Head of Communications (Climate & Energy), Asar