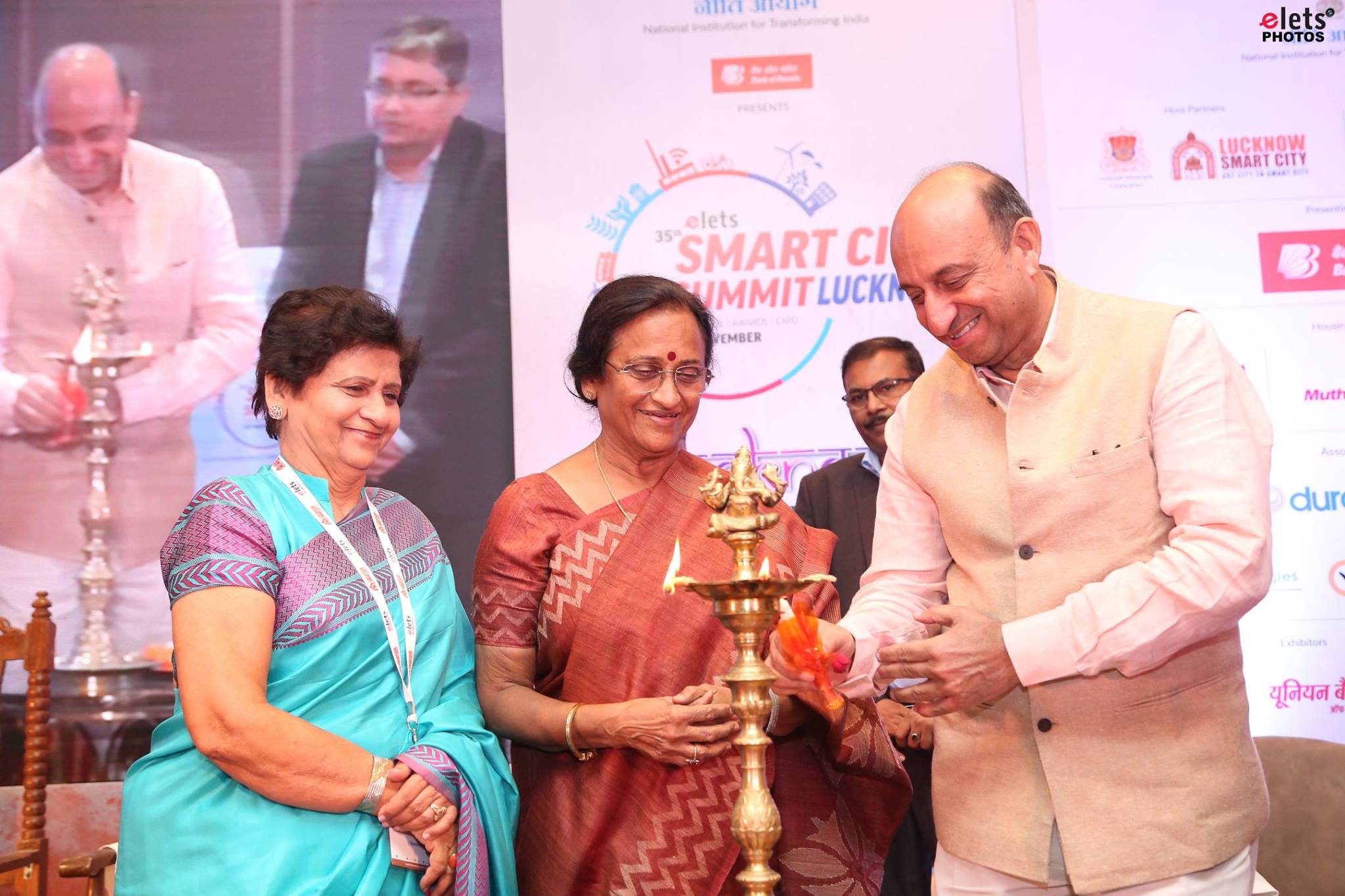 Nurturing the heritage status of Lucknow to be a priority for all Smart city projects being undertaken by the Lucknow administration, said Prof Rita Bahuguna Joshi, Minister for Tourism and Family Welfare, Govt of Uttar Pradesh, at the 35th Smart City Summit held in Lucknow on Friday.
"While transforming the historic city of Lucknow city into a world-class Smart City, we are focussing on developing the city into an International culture and heritage hotspot. To this effect, a number of Smart City based initiatives are being executed. Since religious tourism is UP's forte, along with a thrust on building Smart Cities, we are revamping all famous spiritual places," said Bahuguna.
Building upon the hope that deliberations carried out by all stakeholders, including with various industry players and States representatives would open vistas for mutually beneficial win-wins, Suresh Kumar Khanna, Minister for Urban Development, Uttar Pradesh, said, "Uttar Pradesh is on the path of creating a conducive environment for sustainable development. Sincere efforts are being made to make all cities of Uttar Pradesh among the best in the country. The Government is ready to adopt any technology that is beneficial for the State and wants all municipal corporations to be self-reliant in bringing a qualitative change in the lifestyle of people living in all the cities."
"The pleasing thing about UP's various Smart City missions is that along with a thrust on modern technologies, equal emphasis is being given on maintaining the cultural heritage of the various cities.  Under this, many places in Area Based Development (ABD) region are being given a makeover. The work of preserving and utilising the heritage buildings in Chattar Manzil, Roshan Ud Dolah Kothi, Kothi Gulistan-e-eram and Darshan Vilas Kothi and Kaiserbagh area is going on in full swing." said  Sanyukta Bhatia, Mayor, Lucknow.
Anil Garg, Divisional Commissioner, Lucknow and Chairman, Lucknow Smart City Limited, said, "Lucknow Smart City Limited is extending its citizen-centric services through various delivery channels. We are implementing the Integrated Command and Control Centre (ICCC) to integrate various smart citizen-centric solutions."
Under our 'Solid Waste Management' plan for the city, smart community bins are being set up and door to door collection has been started in 107 wards, Garg added.
Dr Indramani Tripathi, Municipal Commissioner, Lucknow Municipal Corporation and Chief Executive Officer Lucknow Smart City Limited, said, "The pan-city Smart City proposal of Lucknow comprises a number of components aimed at extending its citizen-centric services through various delivery channels. Besides implementing Integrated Command and Control Centre to integrate various smart citizen-centric solutions to Solid Waste Management plans to increase usage of  green energy and improving city-wide sanitation system, the historic City of Lucknow is marching ahead to become a truly 'Smart' city."
Mentioning many key projects being envisioned by NITI Aayog, under its future template for Smart Cities in India, S K Singh, Director Urban, NITI Aayog, Govt of India, opined, "Implementation of Smart cities would go a long way in changing the urban landscape of India. NITI Aayog is driving the key areas which would act as key enablers in this pursuit."
"Finland is an active partner of India in many of its Smart City projects and in coming times, we are going to enhance our collaborations with various Indian states", said Erik af Hällström, Minister Counsellor/Deputy Head of Mission, Embassy of Finland, while presenting an international perspective on Smart Cities.
In a bid to improve the Smart City ecosystem and take stock of the progress made by various Smart City projects in Uttar Pradesh, Lucknow Municipal Corporation and Lucknow Smart City Limited, in association with Elets Technomedia Pvt Ltd, organised the 35th Smart City Summit on Nov 30th, 2018, in Lucknow.
The unique congregation of top decision makers from Government and Corporate served as an ideal platform for all the stakeholders from the Smart City ecosystem to deliberate on various Smart City projects and formulate effective policies in this regard.
Among the notable luminaries who graced the mega conclave included: R S Gupta, Municipal Commissioner, Ayodhya Municipal Corporation; Arun Prakash, Municipal Commissioner, Agra Municipal Corporation; Andra Vamsi, Additional Registrar, Cooperatives & Banking, Government of Uttar Pradesh; Mahendra Kumar, Director (Rolling Stock & Systems), Lucknow Metro Rail Corporation (LMRC); S K Jain, General Manager, Lucknow Smart City Limited; Arif Saqlain, Managing Director, Lucknow City Transport Services Limited (LCTSL,; Sanjay Goyal, Managing Director, Madhyanchal Vidyut Vitran Nigam Limited, Uttar Pradesh; Prabhu Narain Singh, Vice Chairman, Lucknow Development Authority (LDA) and Dilip Tripathi, Gram Pradhan, Hasuri Ausanpur, District Sidharth Nagar, Uttar Pradesh.
The summit witnessed huge participation from relevant policymakers and stakeholder representing different Smart City missions from various parts of the country.
Anjum Parvez, Secretary (M&UDA), Urban Development Department, Government of Karnataka;  Naveen Mahajan, Secretary, MSME Department, Government of Rajasthan;  Saurabh Jorwal, Municipal Commissioner, Bihar Sharif Municipal Corporation & C.E.O. Bihar Sharif Smart City Limited; K Ramesh, Commissioner, Kakinada Municipal Commissioner, MD & CEO, Kakinada Smart City Mission; B Purushartha, Divisional Commissioner, Jalandhar;  V Saravana Kumar, Secretary, Rajasthan State Commission for Protection of Child Right, Government of Rajasthan ; Sonali Giri, Municipal Commissioner, Amritsar Municipal Corporation; Subodh Agarwal, Additional Chief Secretary, Higher & Technical Education, Government of Rajasthan and B. Venkatesham, Secretary, Youth Advancement, Tourism & Culture Department, Government of Telangana, deliberated on the progress of Smart City projects in their respective States.
From the banking sector, Dr Ram Jass Yadav, General Manager, Bank of Baroda; Pradeep Sachdeva, Deputy General Manager, Bank of Baroda; and Shikha Sharma, Circle Head, Punjab National Bank (PNB) shared their views on the Smart City ecosystem.
The Key themes, deliberated during the summit, included:
Interoperable Command & Control Centre (ICCC)
Safe City: Security and Surveillance
Intelligent Traffic Management System (ITMS)
Basic Services (Water & Electricity supply, Street lighting, PNG Network)
Smart Mobility & Sustainable Transport, Metro Rail
Smart Roads, Solar Power
Solid Waste Management, Waste Water Reuse
Heritage Conservation, Riverfront Development.