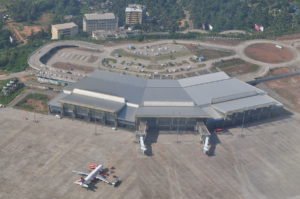 In a recent development, the Ministry of Civil Aviation will soon connect Vellore with Tirupati via Chennai as a part of the regional connectivity scheme Udan. With preparatory work completed by AAI under this scheme, Vellore and Neyveli will be convenient to flights soon. The Ministry has already awarded the tender for the same to a private carrier.
In order to link the pilgrim destination to Vellore, Turbo Aviation, designed for the route would also fly between Chennai and Tirupati. Institutes and trade bodies have taken the responsibility of forwarding it to Chennai. Moreover, helicopter services, also air ambulance services are working from Vellore to other cities anytime if required.
An AAI official said the airport was being cleaned up and is kept at halt till airlines fly.
Vellore with a small building can be operated for a terminal and an airstrip which gives room to smaller 20-seater planes. A study of airstrip to remove hindrances for flights owing to its inactive state for a long time. In past, Madras Flying Club had been training flights for students but unfortunately, has been discontinued.
A senior official said, "Development of Vellore has several advantages for Chennai. It can work as a satellite airport for Chennai airport with proper accommodation as parking planes"
Get a chance to meet who's who of Smart Cities ecosystem in India including key policymakers from Central and State Governments. Join us at Smart City Conclave, Kochi on 18 August, 2018 to explore business opportunities. Like and connect with us on Facebook, Linkedin and Twitter.