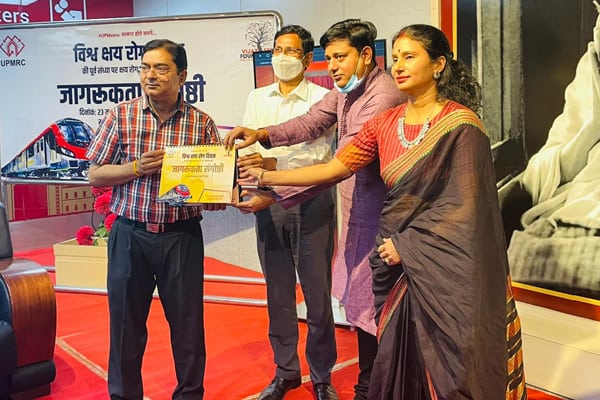 Uttar Pradesh Metro Rail Corporation organised a symposium on the eve of World TB (Tuberculosis) Day, on 23 March 2021, 5:00 PM onwards at Hussainganj Metro Station in order to raise awareness on Tuberculosis disease.
Various eminent health experts were in attendance at the symposium. Information was given to the general public regarding the causes, symptoms, preventive and curative measures for the disease.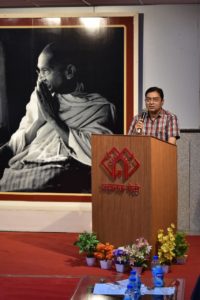 Vishal Singh, Founder of Vijay Shree Foundation, also popularly known as the 'Foodman of Lucknow' addressed the symposium and emphasised the availability and importance of healthy yet economically viable food for everyone.
Dr Suryakant Tripathi, Head, Respiratory Department, KGMU highlighted several aspects of TB. He said that the first description of TB is there in Rigveda. He stated several factors which are responsible for TB which include malnutrition, humid conditions, ill-ventilated rooms and pollution and how TB can be prevented and cured through consuming a rich diet and maintaining a healthy lifestyle. He reiterated the goal of a TB free by 2025 and how we can achieve it through our consistent efforts. The tests and cure of TB are free and some financial aid is also provided by the government. He said per day one thousand TB patients succumb.
Also Read: PM Modi launches Jal Shakti Mission: Catch the Rain on World Water Day 2021
Dr AK Chaudhary, who is leading a TB eradication campaign in the city also addressed the symposium.
Senior Dietician, SGPGI, Nirupama Singh was also in attendance and she elaborated healthy diet plans, dos and don'ts of diet and other related aspects. Singh also said that fancy and exotic fruits are not always necessary to improve your health; rather indigenous food items like Indian gooseberry, guava and lentils are sufficiently healthy and provide high nutrition.
Director Operations, UPMRC inaugurated a digital calendar together with Vishal Singh after the guests' speeches. The calendar has been made through joint efforts of UPMRC and Vijay Shree Foundation to raise awareness on Tuberculosis.
Director Operations, UPMRC also stated several unique sanitisation measures adopted by UP Metro. Lucknow Metro is the first metro service in the country to sanitise its trains using UV rays, which reduces the cost of sanitisation up to one per cent of manual sanitisation. UP Metro also uses up to 100 per cent fresh air in air-conditioning to avoid recycling of outside air that contains virus and bacteria.