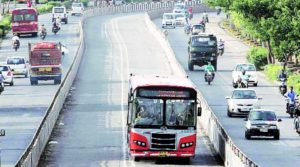 Surat Municipal Corporation (SMC) has been awarded the 'Best City Bus Services Award' by the Union Ministry of Housing and Urban Affairs for making 87 per cent of the private vehicle and auto rickshaw users to use city buses.
The award for 'Best Urban Transport Practices' was announced by the Ministry in Hyderabad where three-day Urban Mobility Conference –cum-exhibition concluded recently.
Mysuru won the  'Best Non-Motorised Transport'  award for its Public Bicycle Sharing system while Kochi (Kerala) bagged the 'Best Urban Transport Initiative' award for speedy completion of its Metro Rail Project besides integrating the metro with other modes of transport.
H-TRIMS of Hyderabad, the Traffic Integraged Management initiative has been chosen for the 'Commendable Initiative Award'  under 'Best Intelligent Transport Project' category.
Chittor has been chosen for the 'Commendable Initiative Award' for the city police's initiative for improving road safety.
Surat city with a population of about 45 lakhs was heavily dependent on three wheelers and private vehicles till 2014 when Bus Rapid Transport System (BRTS) and city buses were made operational.
Other Award Winners are:
Madhya Pradesh: Commendable Urban Mass Transit Initiative for implementing Cluster Based bus Transit System
Bhopal : Commendable Initiative for introducing Public Bicycle Sharing
Noida and Greater Noida: Commendable City Bus Service Project initiative
Andaman : Commendable Initiative for introducing Special Bus Services for women
Lucknow  Metro Rail Project : Commendable Urban Mass Transit Initiative