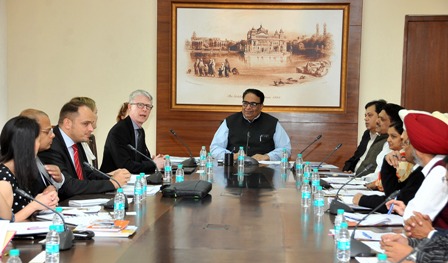 Priya Yadav
Punjab is exploring opportunities to work in partnership with Ontario state of Canada in various fields including that of agriculture, industries, education and business and tourism.
A Canadian delegation headed by Leslie Marchant, Director, Ministry of Intergovernmental Affairs and consisting of Christopher Gibbins, Consul General of Canada in Chandigarh, Caroline Seguin, Executive Director, Intergovernmental Affairs-Strategic Planning and Tour, Jens- Michael Schaal, Counsellor(Commercial-Ontario), Ontario International, Ranissah Samah, Senior Policy Advisor, Angela Menezes, Head-Visits, Logistics & Protocol, had a detailed meeting with team of Punjab Government officers headed by Sarvesh Kaushal, Chief Secretary Punjab including Sanjay Kumar, Principal Secretary NRI Affairs, Anirudh Tewari, Principal Secretary Industries and CEO, Punjab Bureau of Investment Promotion, R K Verma, Secretary Technical Education and Governance Reforms, K S Pannu, Secretary Irrigation and MD Punjab Agro Corporation, Manpreet Singh, Chairman PPCB, Neelima, Additional Secretary General Administration, for exploring the areas of partnership between Punjab and Ontario State of Canada.
During the meeting, Chief Secretary mentioned that under State's "Ease of Business" mission, Punjab Bureau of Investment Promotion (Bureau) has been set up by the Government of Punjab as the single point of contact for regulatory clearances and fiscal incentives approvals to facilitate investors who are looking to set up a business in Punjab. As the nodal agency, Bureau has been entrusted the responsibility to ensure a smooth transition of the project from the proposal stage up to the implementation stage. Such a single window structure shall facilitate the investments to be made by the Ontario companies in the State.
During the meeting, Ms. Leslie informed that Ontario's economy thrives through its unique combination of resources, manufacturing expertise, exports and a drive for innovation. Ontario generates 37% of the national GDP and is home to almost 50% of all employees in high tech, financial services and other knowledge-intensive industries. She further said that the Ontario State is willing to partner with Punjab in the areas of Urban Infrastructure (including environmental technologies, clean/renewable energy technologies and intelligent transportation technologies), Information and Communication Technologies, Advanced Manufacturing (automotive, food manufacturing and processing), Agriculture, Education and Skills Development and Museum Development.
During the meeting, Mr. Anirudh Tewari, Principal Secretary Industries and CEO Invest Punjab stated that Punjab offers opportunity to investors in areas like Renewable Energy, Food Processing, Agriculture, Animal Husbandry, biomass conversion to energy, clean technologies, clean water technologies, Knowledge Industries etc. He also stated that a lot of companies from Canada have already shown interest in investments in the State during the recently concluded Progressive Punjab 2015 summit. Further priority areas identified for collaboration during the meeting included Skill Development, Student Exchange Programmes with Canadian Universities, e-Governance, Research, Smart cities, Mega Food parks, establishment of Cold Chain infrastructure, River cleaning technology. CS also asked the visiting team to explore the investments in medi-city project also.
While finalizing the blue print of the partnership, it was discussed that both the parties should conduct domestic information seminars to educate domestic companies on doing business, and build awareness of opportunities in the partner market, coordinating and leading trade missions to the partner market with a focus on priority sectors, to help gain access to the partner market. The partnership activities also included hosting incoming delegation for the partner markets and participation in trade shows, conferences and other major events in the partner market. CS asked CEO Invest Punjab to provide all the support for the success of the upcoming visit of the Ontario Premier.