PM to launch ONGC's Rs 10,000cr Power and Gas project in Tripura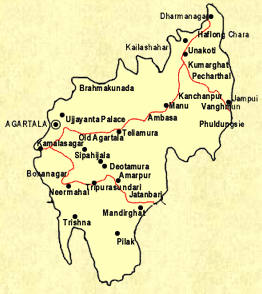 Prime Minister Narendra Modi will launch ONGC's Rs 10,000 crore power and gas production project in Tripura that is PSU major ONGC's biggest investment at a single project site in northeastern India. The site is also proposed to sell the surplus produced electricity to neighboring country Bangladesh.
Two power units of 726.6 MW capacity, each, under the project are already being synchronised to supply power to seven states of the northeast India. According to Tripura government and industry officials after fulfilling the demands of seven states the surplus 98 MW electricity could be sold out on commercial terms to any interested party.
However, the Tripura government, one of the promoters of ONGC Tripura Power Company Ltd (OTPC), is quite eager to include Bangladesh in the project and is awaiting a green signal from the Centre, officials told.
The previous UPA government had in-principle agreed for sale of surplus electricity across the border and also considered offering Bangladesh a minority stake in the project. Company officials said Bangladesh government went out of the way to set up the power plant by allowing the company to use its territory to move 90 cargos of heavy equipment. "The proposals are awaiting approval of the power ministry, which is examining the technical feasibility of a commercial tie-up across the border," an official said requesting anonymity.
State-run exploration giant ONGC and IL&FS are other promoters of OTPC where ONGC holds 50 percent equity stake. IL&FS and the state government hold 26 percent and 0.5 percent stakes, respectively. Balance stakes could be offered to a strategic partner, officials said.
ONGC invested in the power plant to consume natural gas produced from its field as this gas cannot be transported to industrial consumers in different parts of the country due to lack of infrastructure. ONGC's gas fields will supply about 3 million standard cubic meters per day (mmscmd) gas to run the plant, ONGC officials said. The state has enough gas to run the plant for over 20 years.
"There will be about 2 mmscmd surplus gas from our fields that will be consumed by local industries because of lack of transmission facility," one ONGC official said.
The project involved investments of about Rs 4,000 crore in power plants, Rs 2,000 crore in electricity transmission and Rs 4,000 crore in development and production of gas. "OTPC is India's biggest Clean Development Mechanism (CDM) project, which is registered with the United Nations Framework Convention for Climate Change (UNFCCC)," the official said. The first unit of 363.3 MW plant at Palatana was dedicated to the nation by President Pranab Mukherjee in June last year. The second unit has been commissioned recently. Assam, Meghalaya, Tripura, Arunachal Pradesh, Mizoram, Manipur, and Nagaland will benefit from this project.