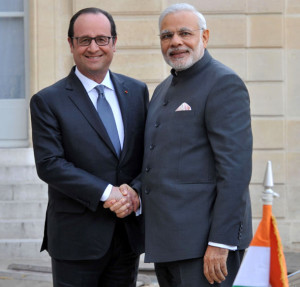 France will help develop three smart cities in India, namely Chandigarh, Nagpur and Puducherry.
In this regard, French Development Agency has signed a memorandum of understanding with the Union Territory of Puducherry and the Government of Maharashtra for Nagpur.
A joint statement by Prime Minister Narendra Modi and French President Francois Hollande said, "The two leaders reaffirmed their commitment to cooperate towards clean and sustainable development and reaffirmed their valuable partnership in India's ambitious plans to develop Smart Cities."
The two leaders also welcomed the partnerships between Engineering Projects India Limited (EPI) and nine French companies which will be able to contribute to major infrastructures projects in India, as per the Joint Statement.
Both the leaders also expressed contentment on the progress of a number of initiatives undertaken by Indian and French institutes to promote and preserve cultural heritage and enhance cultural cooperation between the two countries. Darnell Nurse Jersey