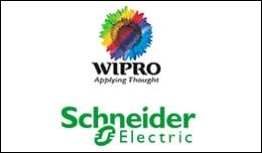 Wipro has joined hands with Schneider Electric, a global specialist in energy management and automated systems, to develop solutions together for India's smart cities.
The two companies will collectively work to deliver cost-effective and efficient citizen services to both urban and rural communities. These organisations are collaborating to develop solutions in the smart city space for India and global markets, Wipro said in a statement.
Both Operation Technology (OT) and Information Technology — provided by the two companies — play a crucial role in providing convergent solutions to Smart Cities, the statement added.
Wipro and Schneider are already partners for IT, Data Centers, Connectivity, Intelligent Building Management Systems and Data Center Infrastructure Management solutions.  This new deal aims to focus on key OT areas like energy optimisation, analytics and citizen service improvement for smart cities. Jay Bouwmeester Jersey