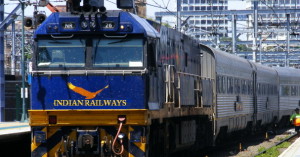 The government is working on a plan to connect four metros of our country with a Diamond Quadrilateral, which is project of the Indian Railways to run high-speed trains, and thus reduce the travel time between these major cities.
Inaugurating the Indore-Mhow railway line, Minister of State for Railway Manoj Sinha, also said that the department will focus on ensuring timely arrival and departure of goods trains, an issue that has taken a back seat in comparison to dealing with such concerns in case of passenger trains.
Sinha also inaugurated a Diesel Multiple Unit (DMU) train at the Mhow station in the Indore district.
The track, which was recently converted from a metre gauge to a broad gauge, will also see electrification work that is expected to be completed by March 2017.
In view of the increasing number of accidents at railway crossings, the department has signed an MoU with the Surface Transport Ministry for construction of Railway Over Bridges (ROBs) across the country. Lamarcus Joyner Authentic Jersey