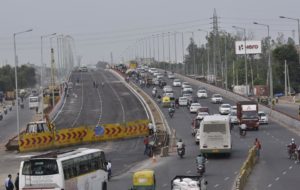 Aiming at easing the traffic movement in the city, the National Authority of India (NHAI) is
all set to open the Hero Honda Chowk underpass in Gurugram by March-end.
This was confirmed by NHAI Project Director Ashok Sharma. In an interaction with media
on Friday, he said, "The underpass will be opened to the public on March 31."
The underpass will decongest the junction by creating a passage for commuters travelling
between sectors 10A and 37 and is expected to ease traffic movement to sectors 33-34, 9,
9A, 10 and 10A, and Sector 37 industrial area.
In 2016, heavy rains had triggered a massive traffic jam at the Hero Honda crossing
bringing the metropolis to a half.