Highlights of the passenger-friendly Railway Budget 2015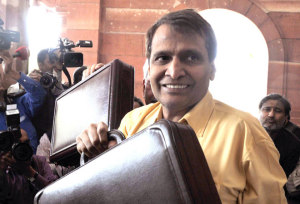 The Railway Minister Suresh Prabhu unveiled his first Budget majorly revolving around the Narendra Modi government's vision of Clean India and Digital India.
The minister announced a record investment plan of over Rs. 1 lakh crore in 2015-16 while sparing the passengers of a fare hike. A number of steps to increase passenger amenities have also been proposed.
Rail Budget 2015 also proposed extensive use of Information Technology and eGovernance initiatives  from SMS alert service for passengers, provision for open Wi-Fi at Railway Stations to digitised mapping of rail land.
Key Highlights
No hike in Railway Passenger Fares
Plan Outlay proposed Rs. 1,00,011 crore, increased by 52%
Allocation for passenger amenities up by 67%
Railways to become prime mover of Indian Economy, Five years action plan proposed
Rail Budget seeks resource mobilization for higher investment
Thrust on measurable and sustainable improvement in passenger experience and to make Rail a safer means of travel
Hot buttons, coin vending machines for railway tickets within 5 minutes, e-catering to select meals from an array of choices
200 more stations to come under Adarsh Station scheme; Wi-Fi to be provided at B category stations
24X7 helplines for attending passenger problems and security related complaints
For the safety of women passengers surveillance cameras in suburban coaches
More General class coaches will be added in identified trains.
The speed of nine railway corridors will be increased to 160 and 200 kmph
Train Protection Warning System and Train Collision Avoidance System to be installed on select routes
77 new projects covering 9,400 km of doubling/tripling/quadrupling works proposed
A new department for keeping stations and trains clean under Swachh Rail Swachh Bharat Abhiyan