Emphasizing a futuristic and innovative techno-approach, Phenix offers expertise to develop unique structural steel components for a first-of-its-kind use of factory – made structural steel components for a power plant in India
Malav Patel,
Managing Director,
Phenix Construction Technologies

"Believing in nothing but the best, Phenix was established with a vision to provide innovative structural steel solutions to its customers. Working on this, the company has carved a dominant position and strives to lead the steel construction industry across nations."
Phenix Construction Technologies, known as a future-ready steel construction solution provider, specializes in designing, manufacturing and installation of complex steel structures & Pre-Engineered Buildings (PEB) globally. A division of M&B Engineering Ltd, Phenix focuses on driving the PEB industry towards an innovative future by carving a unique identity through designing and manufacturing prowess. Upholding these operational values, Phenix delivered its expertise to create a Steam Turbine Generation (STG) facility for a 330 MW power plant at Nellore in Andhra Pradesh over a project area of 2,300 sq m.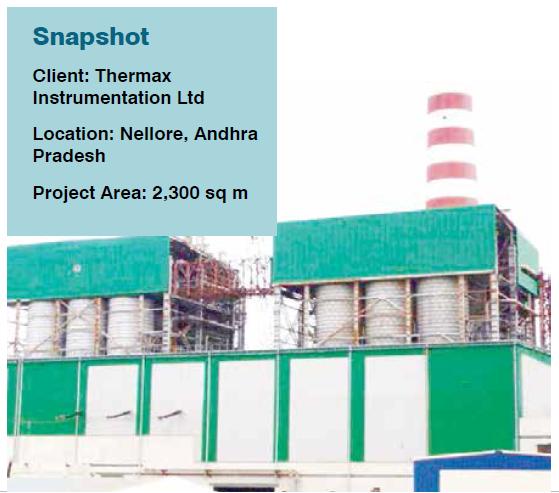 Innovation in Steel
The 330 MW power plant, weighing 3000 metric tons, is known to be the first-of-itskind in the nation. A prime reason behind this first-of-its-kind project is the first-time use of factory-made structural steel components. These components were utilized for columns, rafters, crane beams and mezzanine floors to create the STG facility. Additionally, the facility demanded one of the most complex engineering techniques, attributing few of the most critical functional requirements.
For meeting the demands of this complex structure, Phenix was involved in the designing, manufacturing and installation processes. The 32-meters tall structure was designed to withstand 220 km/hour winds, as the project was located in the cyclone prone coastal regions of the country. The structure also involved overhead cranes, each having capacity of 75 metric tons, operating in tandem. The structure also had four levels of mezzanine that served as platforms for large vibrating equipment. Each of these levels was designed to carry a load of 75 kn / sq m
For meeting the precise requirements of this critical facility, the structural steel utilized in the project were manufactured at Phenix's plant. The steel was manufactured with adherence to the most stringent manufacturing to satisfy the facility's crucial demands. Under the process, 80 percent of the butt welds were to be tested through radiography and 100 percent of them were to be ultrasonically tested.
Excellence Delivered
Through techno-superior and innovative approach backed by talented human capital, Phenix delivered and installed these structural steel components in eight months. The company upholds its innovative approach towards adopting and implementing new technologies and skilled talent pool as prime aspects which have contributed in raising the company as one among the top three PEB and steel structure companies in India.