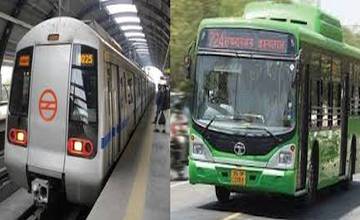 The Delhi Government will soon introduce a 'Common Mobility Card', which can be used for travelling in Metro trains, DTC buses and the cluster buses — orange buses run by the Delhi Integrated Multi-Modal Transit System Ltd (DIMTS).
According to the Transport Department sources, the government is planning to introduce the card from the month of July to ensure seamless travel on different modes of public transport.
However, the Delhi Government plans to launch the card on a trial basis initially. If it works well, the Common Mobility Card would be launched in a phased manner all across the city.
Confirming the proposed launch of the mobility card, Delhi Transport Minister Gopal Rai said that the 'Common Mobility Card' project will be launched in July this year, through which passengers would be able to travel in Metro trains, DTC buses and DIMTS-operated cluster buses.
According to Rai, by the end of June, fares will be charged in all DTC buses and cluster buses through e-ticketing machines (ETM) and thereafter government will move towards the launch of 'Common Mobility Card'.
"We are currently in talks with the Delhi Metro Rail Corporation (DMRC) for finalising a revenue sharing model. In July, commuters can travel using the Common Mobility Card, he added.
As per the plan, while boarding the bus a commuter will have to give this card to conductor, who will swipe it in an e-ticketing machine and, just before getting off the vehicle, he or she will again have to swipe the card in the ETM and fares will be automatically deducted like the Metro. Chris Doleman Jersey