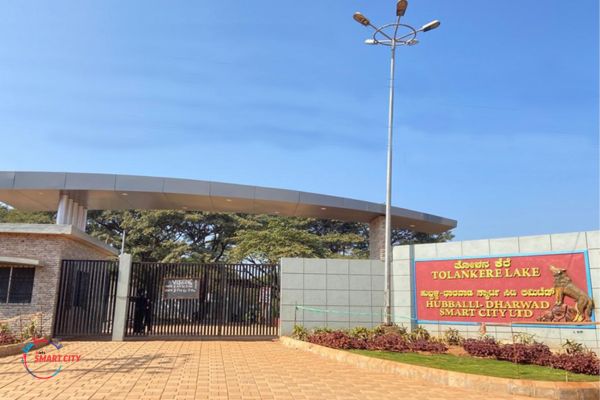 In a remarkable transformation driven by the Smart Cities Mission under the Union Ministry of Housing and Urban Affairs, real estate prices in Hubballi, Karnataka, are on the rise. According to Rudresh S Ghali, the Managing Director of Hubballi Dharwad Smart City Limited, land prices near Tolankere Lake have witnessed a substantial two-fold increase in just three years.
Prior to the redevelopment of Tolankere Lake, land prices stood at approximately Rs 2,000 per square foot. However, following the lake's redevelopment, prices have skyrocketed to Rs 4,000 per square foot, as reported by local residents.
Tolankere Lake, one of Hubballi Dharwad city's significant open spaces and the second-largest lake in the area, has undergone a transformation by Hubballi Dharwad Smart City Limited, with an investment of Rs 25 crore. The lake's surroundings now offer amenities for people of all age groups, including walkways, children's play areas, an amphitheater, meditation spaces, and parking facilities for both two-wheelers and four-wheelers.
Speaking to the media, Managing Director Rudresh S Ghali stated, "The appeal of having property in areas with excellent infrastructure is undeniable. There is a strong demand for land and apartments near Tolankere Lake or the Green Mobility Corridor project. The increasing demand has driven up property prices. The Green Mobility Corridor project in Hubballi Dharwad city is a prime example of utilizing open spaces effectively. This project has transformed the Nala area into a 9.25-kilometer green corridor, catering to pedestrians and cyclists and promoting a healthy and active lifestyle."
Small parks along the corridor have also been established to provide recreational spaces for residents. Additionally, the project received recognition by winning the first prize in the innovative category at the India Smart Cities Conclave.
Ghali further noted, "The Smart Cities Mission was launched by the central government on June 25, 2015. A total of 100 smart cities were selected through multiple rounds of competition from January 2016 to June 2018, and Hubballi-Dharwad was among the seven cities chosen from Karnataka." He continued, "Hubballi was awarded 63 projects under the Smart City Mission, with 59 already completed. Our goal is to finish the remaining three projects by June 2024. So far, we have transformed 49 kilometers of roads into 'smart roads.'"