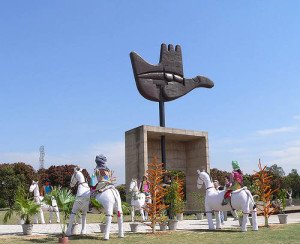 From celebrating the legacy of Le Corbusier, renowned Franco-Suisse architect, to rejoicing over taking to the skies from the new international airport, Chandigarh is making its mark the smart way. As the country's first planned city is declared smart as well, the UT administration is devising and swiftly implementing e-solutions that would enable citizens to interact and live the smart way.
There is an unusual bustle in the city, a flurry of activity and an air of expectancy. Come September, and the country's first planned city, designed by architect Le Corbusier, is gearing up in a big way to pay a tribute to the legend. Juxtaposed with this is the much awaited start of the city's international airport that the Prime Minister threw open on September 11, and has become operational, with its first international flight to Dubai, set to take off on October 19. The city, riding high on the euphoria of being declared smart by the Central Urban Development Ministry, is now looking forward to a much smarter way of living.
The city, that was planned and made by Le Corbusier, celebrated French-Swiss architect on the behest of country's first Prime Minister Jawaharlal Nehru, is seeking UNESCO transnational inscription this year. A team of experts from UNESCO is scheduled to visit in October for this purpose. As the Chandigarh Administration, along with its tourism department and Chandigarh College of Arts gears up to celebrate the city's architecture, its beautiful buildings, there is a plan to roll out a range of e-solutions for the residents.
Mahesh Gandhi, head of computer programming, UT Administration told Elets, "We are coming out with a mobile app for payments of all bills. Already payments are being done online for electricity, water, property tax, telephones." Besides this, Smart City App is being developed that will have the working of all the departments on your fingertips.
Though hectic work is on to digitise all records, but the administration's most ambitious IT-driven project is implementing GIS – Geographical Information System. This will involve mapping the entire city's cables and pipes and will enable giving latest 3D image of the same.
The city has already taken care of the connectivity problem that the IT companies and IT-enabled services face. For this, a Fibre Optic Backbone Network has been established that covers the entire city. Chandigarh Administration's Wired City Plan has been implemented with the laying of nearly 200 kms of Optic Fibre Cable ducts in the city by private companies at their own cost.
Chandigarh has already become the first city in the country to have Optic Fibre connectivity with Delhi, through the network of Power Grid India Limited. Every point in the city is within one km of the OFC Network, thereby enabling the companies to provide Internet services to consumers through the high speed Broadband Network and they are in a position to do so, as per the National Policy.
IT Services Launched by
Chandigarh Administration
Engineering Department
* Cash Collection
* Complaint Monitoring System
Municipal Corporation
Water Bill Collection
Space Booking for MC Community Center
Chandigarh Police
Complaint Registration and Tracking
NOC for Stolen Vehicles
Foreigner Registration and Visa Extension
Vehicle Challan Payment
Office Of DC
Issue of Domicile Certificate
Issue of Income Certificate
Director Transport
Issue of Bus Passes
Issue of Daily Passes
Social Welfare Department
Issue of Senior Citizen Card
Issue of Disability Card
Birth & Death Registration Department
Issue of Birth and Death Certificate
Excise & Taxation
Collection of Sales Tax and Entertainment Duty
Office of RLA
Acceptance of Application for Learners' licence