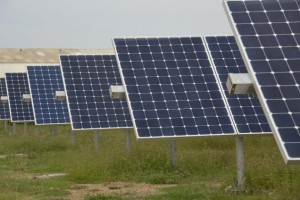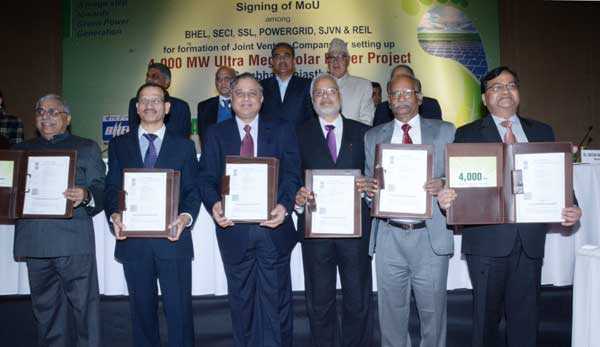 Bharat Heavy Electricals Limited (BHEL), Solar Energy Corporation of India (SECI), Sambhar Salts Limited (SSL), Power Grid Corporation of India Limited (POWERGRID), Sutlej Jal Vidyut Nigam Limited (SJVNL) and Rajasthan Electronics and Instruments Limited (REIL) have signed a Memorandum of Understanding (MoU) for formation of a Joint Venture Company (JVC) for setting up of a Ultra Mega Solar Power Project (UMSPP) with a cumulative capacity of 4,000 MW in phases at Sambhar in Rajasthan on build, own and operate basis.
This information was given by Minister of State in the Ministry of Heavy Industries and Public Enterprises Pon. Radhakrishnan to the Lok Sabha. This is an initiative of the Ministry of Heavy Industries and Public Industries (HI&PE), Ministry of New & Renewable Energy (MNRE) and the Ministry of Power (MoP), he added.
The planned first phase implementation of the UMSPP at Sambhar is of 1,000 MW, and the balance 3,000 MW in subsequent phases.
The proposed equity participation in the JVC is: BHEL 26 percent, SECI 23 percent, SSL 16 percent, POWERGRID 16 percent, SJVNL 16 percent and REIL 3 percent. The JVC will be incorporated in Delhi/National Capital Region (NCR) after finalisation of Definitive documents under the supervision of the Ministry of HI&PE.
All modules required during the Phase-I implementation (i.e. 1,000 MW) of the project at Sambhar will be for supply by BHEL on nomination basis subject to the manufacturing capacity of BHEL at that point of time. Besides, BHEL will also have the right of first refusal for supply of solar PV cells and modules during the subsequent phases (i.e. 3,000 MW) of the project, and other projects developed by the JVC.
The project is likely to be completed in seven-eight years from the date of all the approvals & clearances.