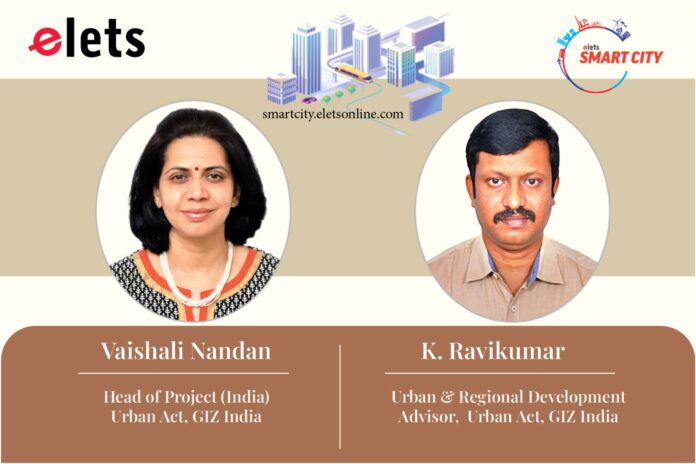 Rapid urbanisation demands an immediate need for sustainable urban infrastructure. City municipal corporations must plan and provide top-tier services to their citizens. This rising demand has drastically affected city finances. The combination of unprecedented urban growth and changing climate poses significant risks, such as increased water stress, the heat island effect, and more frequent and severe weather events like urban floods and droughts. These climate challenges negatively impact the quality of life and the revenue potential of cities. It's crucial for cities to reassess their finances through a climate lens, prioritizing climate-sensitive projects.
Nationally, the Ministry of Housing and Urban Affairs (MoHUA), with the Deutsche Gesellschaft für Internationale Zusammenarbeit (GIZ's) support, introduced the Climate Smart Cities Assessment Framework (CSCAF) as part of the 'Climate Smart Cities' project. Funded by the German Federal Ministry of Economic Affairs and Climate Action under the International Climate Initiative (IKI), the CSCAF was collaboratively developed with NIUA and 26+ other organizations. It assists cities in identifying climate-relevant measures. The CSCAF comprises five sectors with 28 indicators, monitoring key climate performance at the city level.
Objective
As part of the Climate Smart Cities Assessment Framework (CSCAF) approach, GIZ undertook a comprehensive municipal finance study in the cities of Coimbatore, Kochi, and Bhubaneswar. The study aimed to assess revenue and expenditure, the availability of funds, and performance in alignment with climate aspects. The financial analysis spanned the last five years, drawing from the balance sheets published by the Municipal Corporations. The objective of this study was to review the policy and institutional structure, the overall financial status, and provide a detailed analysis of income and expenditures related to climate (adaptation or mitigation) projects. This would lead to targeted recommendations.
The city budget and financial statement in the study summarize the financial performance of urban local bodies (ULBs) over a specific period and their financial position at the beginning and end of the year. It offers a comprehensive view on whether the ULBs have sufficient earnings to meet their developmental and other expenses and if their assets are sufficient to fulfill the obligations of the ULBs. It also provides crucial information to multi-stakeholders, assisting in decision-making.
ULBs typically derive their revenue from taxes and user charges. However, a significant portion of their revenue stems from assigned revenue, budgetary revenue, and grants. The Coimbatore, Kochi, and Bhubaneswar Municipal Corporations formulate their budgets based on revenue and capital sources. Currently, these cities have not prepared a distinct budget for climate issues. Nevertheless, climate-related project activities are initiated and financed through budgetary allocations and state and central schemes.
The population of Coimbatore city, as per the 2011 Census, stood at 16.01 lakhs, which grew to 22.88 lakhs in 2023(1). Bhubaneswar City's population, according to the 2011 Census, was 8.40 lakhs, increasing to 10.34 lakhs by 2019(2). Kochi's population, as recorded in the 2011 census, was 6.02 lakhs, and it rose to 6.4 lakhs in 2021(3). The analysis indicates that, due to rapid urbanization, the Municipal Corporations of Coimbatore, Kochi, and Bhubaneswar require additional funds to enhance their climate- friendly infrastructure services and prioritize sectors under CSCAF.
City Insights
The average share of revenue expenditure in Coimbatore is 58%, with 23% attributed to establishment expenses and 22% to operation and maintenance (O&M) costs of the total revenue expenditure. In Bhubaneswar City, the average share of revenue expenditure stands at 67%. Of this, 34% is for establishment expenses, and 50% covers the O&M costs of the total revenue expenditure. For Kochi, the average share of revenue expenditure is 58%. Out of this, 46% goes towards program expenses, 26% to establishment expenses, and 20% to O&M costs of the total revenue expenditure. In all three cities, the majority of the revenue is allocated to establishment and O&M expenses.
A significant portion of the expenditure in all three cities was observed to be spent on the energy sector, which encompasses operations & maintenance of electricity, electricity charges, and fuel charges.
Coimbatore City received capital grants from central schemes and primarily used this for enhancing green cover and biodiversity, including the restoration of lakes. The O&M expense accounts for around 2% of the total expenditure. Bhubaneswar, on the other hand, received grants for stormwater drainage, and special funds like disaster management and chief minister relief funds from the state government. The average share of these expenses is 10% of the city's total expenditure. Kochi directed a significant portion of its expenditure, about 2% of total revenue expenditure, to the water and waste management sector.
The analysis indicates a heavy reliance on one or another resource, highlighting a lack of diversity in resource mobilization. Infrastructure projects related to climate, such as water body restoration, solar plants, energy-efficient LED streetlights, NMT, and air quality monitoring projects, are being implemented under central schemes like the Smart Cities and AMRUT schemes.
Also Read | Towards Sustainable Growth in a World of Irreversible Urbanisation
Currently, Coimbatore, Kochi, and Bhubaneswar municipalities have drafted separate budgets for climate initiatives. While the budgeting process doesn't generally earmark funds specifically for climate adaptation and mitigation measures, numerous climate-related projects are undertaken by the Municipal Corporations. Still, there isn't an accounting mechanism or established institution at the city level to monitor expenditure on climate-centric projects or programs with climate co-benefits. Even though the analysis began with three cities, the positive response and reception have motivated an expansion of this study to fourteen smart cities in India. Furthermore, a detailed digital climate budgeting tool, aimed to be deployed nationwide, is currently in the works.
Conclusion
Climate finance for cities has yet to evolve as a concept. Many aspects of climate change adaptation (and, to some extent, mitigation) are blended with other ongoing development initiatives. Many Indian cities have not prepared a separate budget for climate-related concerns. Appropriate legal frameworks and financial management capacities are essential to access international donor funds. Moreover, private capital markets are often absent.
Cities need to familiarize themselves with climate budgets, financing opportunities, access mechanisms, and involved processes. By doing so, Municipal Corporations will be better positioned to prepare Climate Budgets or highlight climate-related project budget allocations in their financial plans. The funds allocated for development projects can support efforts to reduce carbon emissions or adapt to climate change activities. This preparation will also assist in attracting international climate funds by showcasing the city's actions on climate projects.
Views expressed by Vaishali Nandan, Head of Project (India), Urban Act, GIZ India 
K. Ravikumar, Urban & Regional Development Advisor, Urban Act, GIZ India