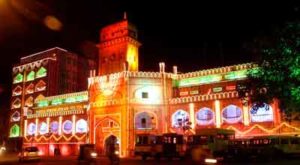 Gujarat's Surat has signed an agreement with Netherlands Rotterdam city for a two-year technical knowledge exchange programme, which will focus on water security.
The programme, which comes under the European Union's urban cooperation programme, will ensure  sustainable growth for Surat's water system.
European Union's Indian representative Piearro Rematti signed the agreement with Surat municipal commissioner M Thennarasan in presence of city mayor Asmita Shiroya and other elected representatives of Surat Municipal Corporation (SMC).
"Surat will get technical and logistics aid for period of two years under this agreement along with training facilities. The city will also benefit immensely in the field of water security from the Dutch city," said an SMC official.
European Union is looking for similar partnerships with other Indian cities. Surat was selected as it is one of the fastest growing cities in the country.
"This agreement will provide Surat with an avenue of obtaining modern technology and the international funding required for sustainable growth," the SMC official said.
Get a chance to meet who's who of Smart Cities ecosystem in India including key policymakers from Central and State Governments. Join us at Smart City Conclave, Kochi on 18 August, 2018 to explore business opportunities. Like and connect with us on Facebook, Linkedin and Twitter.