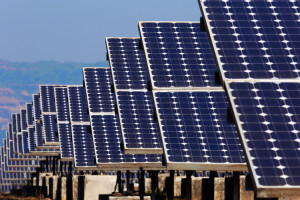 Tata Power Solar, one of the largest solar manufacturers in India, has announced that its crystalline PV modules have successfully passed the Potential Induced Degradation (PID) test conducted by Underwriters Laboratories (UL), a premier global independent safety science company.
UL, the world leader in product safety testing and certification, subjected Tata Power Solar's PV modules to some of the harshest PID-test conditions — 85 ± 5°C temperature, 1000volt negative voltage, 85pc relative humidity and test period of 96 hours — in the industry.
Results showed less than 1pc degradation in the modules, while the accepted level is 4-5pc. The strong performance of Tata Power Solar's modules under such extreme conditions showcases the superior quality and reliability of its products, a release said on May 14.
Commenting on the certification, Tata Power Solar CEO Ajay Goel said, "As one of the oldest solar manufacturers in the world, we have exported more than 500MW of modules world-wide over the last 25 years."
UL India Managing Director Suresh Sugavanam said, "Our test programme evaluates the modules' performance against system voltage stress, verify module safety and screen for PID susceptibility. Tata Power Solar's modules have produced excellent results proving that they are not susceptible to PID, thereby classifying them as among the best in the solar industry."
Get a chance to meet who's who of Smart Cities ecosystem in India including key policymakers from Central and State Governments. Join us at Smart City Conclave, Kochi on 18 August, 2018 to explore business opportunities. Like and connect with us on Facebook, Linkedin and Twitter.