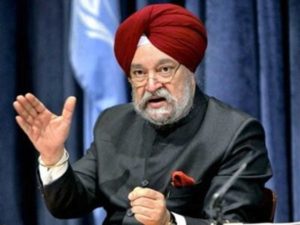 The Minister of State for Housing and Urban Development, Hardeep Singh Puri averred in Rajya Sabha, that there is no delay in construction or cost over as to the third phase of Delhi Metro.   
While replying to the supplementary during the Question Hour, Hardeep Singh Puri said, "The third phase of Delhi Metro encompassing a construction of 190 km rail tracks, hasn't experienced any delay in the construction or cost-runs."
He further added, "The construction of a 190 km was completed in first two phases of Delhi Metro started in 1997 and 2011. The Phase 2 of Delhi Metro commenced in 2011, involves the construction of 180 km, is due to be completed this year."
Speaking on Phase 3, Puri said, "Its implementation is in progress, it began in stages in December 2011. From the total of 150 km, 98 km has been made operational, rest 4 km will be commissioned by June 2019 and the left 3 km by December 2020."     
Get a chance to meet who's who of Smart Cities ecosystem in India including key policymakers from Central and State Governments. Join us at Smart City Conclave, Kochi on 18 August, 2018 to explore business opportunities. Like and connect with us on Facebook, Linkedin and Twitter.