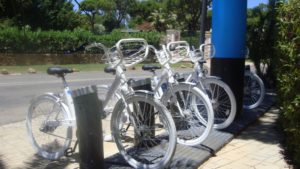 Jaipur Smart Mission Ltd (JSML) will soon introduce a Public Bicycle Scheme (PBS) at a cost of Rs.1.10 crore.
To promote clean environment and healthy life in the city, the cycles will be available at 20 docking stations at public and tourists locations.
JSML has alloted this project to Delhi based firm Greenolution.
"The project has been christened 'Cyclo'. The scheme will provide pollution-free last-mile connectivity for residents. It docking station are expected to be completed in three weeks after the work order is released," said Sandesh Nayak, Chief Executive Officer, JSML in conversation with The Times of India.
"Each docking station will cost approximately Rs 5.5 lakh. The project will be operated and maintained through advertising, which is expected to fetch Rs 3 crore," added Nayak
Get a chance to meet who's who of Smart Cities ecosystem in India including key policymakers from Central and State Governments. Join us at Smart City Summit, Surat on 19th-20th May, 2018 to explore business opportunities. Like and connect with us on Facebook, Linkedin and Twitter.
Recommended from all portals