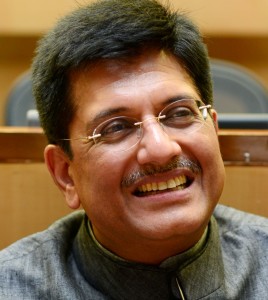 A National Lab Policy is needed to address the testing, standardisation and certification renewable energy projects in the country, said New and Renewable Energy Minister Piyush Goyal.
The Minister said that indigenous technology development and standardisation is essential for the growth of renewable energy in the country. "There is a need to pay more attention on ensuring quality and reliability of renewable energy systems for effective promotion of renewable energy."
He emphasised on maintaining consistency in manufacturing and confidence in reliability of these technologies/systems to ensure that systems installed function properly.
He further stressed that proper standardisation will facilitate financing options for deployment. "
We need to strengthen test facilities for proper testing to maintain quality of products. Also, training, proper inspection for checking the quality of systems installed is needed, ensuring effective utilisation of renewable energy."
Get a chance to meet who's who of Smart Cities ecosystem in India including key policymakers from Central and State Governments. Join us at Smart City Conclave, Kochi on 18 August, 2018 to explore business opportunities. Like and connect with us on Facebook, Linkedin and Twitter.