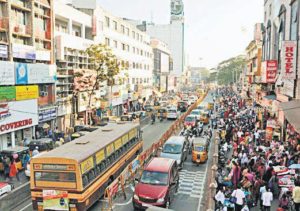 To give boost to its smart city project, Greater Chennai Corporation is planning to set up a Command and Control Centre (CCC) that will provide real-time information on the status of civic utilities in the city. Comman man can access this information through the website or through the smartphone app.
Chennai's T Nagar will be covered by CCC and later on the whole city will be covered under the command centre.
The new system will use a network of sensors and cameras, fitted at public spaces and on civic utilities in the smart city area, to gather live feed.
For instance, a sensor-fitted garbage bin will notify the level of trash in it and how many times in a day it has been cleared. A sensor on a streetlight can indicate its functional status and a traffic CCTV camera will provide information on traffic movement or violations to the officer manning the feed at the CCC headquarters.
Get a chance to meet who's who of Smart Cities ecosystem in India including key policymakers from Central and State Governments. Join us at Smart City Conclave, Kochi on 18 August, 2018 to explore business opportunities. Like and connect with us on Facebook, Linkedin and Twitter.