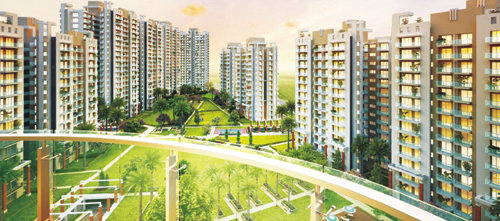 The real estate sector is close to reclaiming its past glory, Microtek Infrastructure Executive Director Pramod Agarwal tells Gautam Debroy of ENN. Excerpts from the interview:
How do you see the prospects of the real estate sector when the economy is showing signs of recovery?
I believe the good times are around. There are some strong indications of recovery in the economy. And, better Gross Domestic Product (GDP) growth rate would always entail participation of the real estate sector. In fact, a vibrant real estate sector can spur momentum in various other sectors as well, including the ancillary industries, thereby adding cumulatively to the economy.
What are your expectations from the Narendra Modi-led NDA Government?
As it is an apparently strong and stable government, I hope decisions will betaken faster. There is a marked difference between the nature of composition of the two governments – the UPA I & II were coalitions of several political parties, so the decision-making process was slow; but now, with a single party (BJP) winning majority on its  own, the central government is sure to be more fast and confident in its decisions.
One of the first steps the new  government needs to take is ensuring passage of bills lying with different ministries. That will help the industry a lot.  And, as said earlier, if a government sincerely wants to better the GDP rate, it must first boost the real estate sector,  which is only second after the agriculture sector in terms of employment generation.
Simply difficult!
" 70 to 80 approvals are required from the start of a project to handing over of finished flats to customers. The system of so many approvals must end…we want a single-window clearance system "
Do you feel the LARR Act will facilitate hassle-free land acquisitions on the ground?
The Land Acquisition and Acquisition Rehabilitation and Resettlement (LARR) Act will no doubt, provide transparency. Although this Act is set to push land prices initially, at least land acquisition will be hassle-free, as it leaves hardly any room for future litigations. In the long run, I am sure the LARR Act will prove beneficial from the viewpoint of growth of the industry. However, since land is a raw material in real estate, if the cost of raw material goes higher, the costs for consumers are also set to rise in the same ratio.
What impact the Act will have on the affordable housing segment?
Affordable housing is a totally different ball game. Different state governments have their own set of low-cost housing policies. For example, as per the recently-approved policy of the Haryana government, in each sector a developer can own up to 10 acres of land. And, there is a price ceiling of `4,100/sq feet. I think the state governments need to pay greater attention to such policies to promote affordable housing.
Employment booster
"If a government sincerely wants to better the GDP growth rate, it must first boost the real estate sector…it is only second after the agriculture sector in terms of employment generation."
With so many home seekers around, funds should not be an issue. Is it?
You are right. With so many home seekers around, funds were not such a big issue until a few years back. But of late, they (people) have also been waiting for a stable and strong government to move in with equally stable policies. Previously, they were hesitant to invest in real estate or even to purchase a real estate or even to purchase a home to live in. But we can see a gradual shift in their attitude…there's an apparent change in their approach. Now they have started coming to us making various investment-related enquiries or even to go for house-buys.
As a developer, what regulatory changes would you like to see to boost the sector?
In the real estate sector, we have to take 70 to 80 approvals from the start of a project until handing over of finished flats to our customers. This must change…the system of so many approvals must be done away with. We want the new government to take some effective steps, and on the lines of Gujarat, a single-window clearance system should be introduced elsewhere, too. Instead of approaching so many departments, we want fewer points of clearance, four to five at the most, where we can go and get all the necessary approvals within a time frame. Hassle free no-objection certificates (NOCs) are something that the developers are desperately looking forward to.
Despite so many construction technologies around, why developers are still wary of using those?
Of course, there are very efficient technologies on the block, but as those come costly, the use is very limited. For  example, at Micortek, we are using aluminum sputtering for almost 80 percent of the walling requirements…only 20  percent is brick walls. Although it is quite costly, we are using this technology. Everything in a project is related to  the costs involved. But since we do relatively more judicious planning in our projects, we have been able to offer  our customers the best. Currently, there are hardly four to five projects in India using the latest technology, but in the next five to nine years, it would be mandatory for everyone to use this technology, I am sure.
What are the future plans of Microtek Infrastructure?
In 2010, we decided to enter the real estate sector. We started purchasing land and meeting all the necessary requirements; as a result, today we have around eight to 10 housing infrastructure licenses on hand. We have  already launched Microtek Greenburg. Several other projects are in the pipeline. Almost all the projects are around  Dwarka Expressway. Now we are acquiring land in Delhi under the Delhi Master Plan 2021. Apart from that we  want to expand Microtek on pan-India basis. We plan to move forward in a much bigger way once we see the  government taking some concrete steps to give a push to the real estate sector.
Get a chance to meet who's who of Smart Cities ecosystem in India including key policymakers from Central and State Governments. Join us at Smart City Summit, Surat on 19th-20th May, 2018 to explore business opportunities. Like and connect with us on Facebook, Linkedin and Twitter.
Recommended from all portals