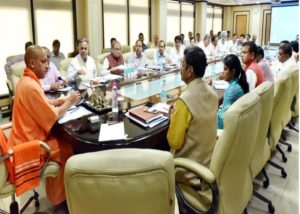 Uttar Pradesh Chief Minister Yogi Adityanath has issued directives to ensure that all roads in the State are potholes free by June 15, 2017. He also told officers to ensure that government works and projects are completed within fixed timelines as this was a priority of the State Government.
The Chief Minister was reviewing the works of the Public Works Department (PWD). Also present at the review meeting was Deputy Chief Minister Keshav Prasad Maurya. The Chief Minister also directed officials to ensure that tainted firms, criminal, mafia and corrupt elements to be kept away from departmental works.
In place of them, he said people with good image and quality work delivery should be given a chance to work. The Chief Minister also pointed out how implementation of e-tendering facility would help in cleaning up the system, making it transparent and corruption free.
Yogi also underlined that creating a road network in the villages was a priority of the government and asked officers to prepare action plans keeping this in mind, so that large scale construction of roads is set rolling in the rural areas to make transportation and commuting easy for people living in the villages. Ronnie Lott Womens Jersey