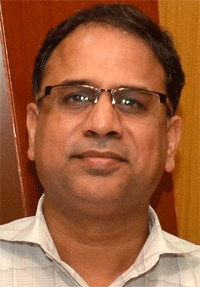 After hosting the Asian Athletics Championships in 90 days, Odisha has emerged as a sports powerhouse in the making. Bhubaneswar, making rapid progress in Smart City infrastructures has turned itself as a major sports destination. The state government has announced setting up of 'Kalinga International Sports City' in the capital city of Bhubaneswar and sports infrastructures are now the integral part of Smart City development plan. Odisha has successfully hosted Men's Hockey World League Final in December 2017 and all set to host Hockey Men's World Cup in 2018 at Bhubaneswar, says Vishal Kumar Dev, Commissioner-cum-Secretary of Sports and Youth Services Department, Government of Odisha shares much more in an interview with Biswajit Sahoo of Elets News Network(ENN). 
Odisha has successfully organised the 22nd Asian Athletics Championship, 2017 in Bhubaneswar. This is only the third time that such an international sports event was organised in India. What transpired behind and how Sports Department acted together for this event?
The successful hosting of the 22nd Asian Athletics Championships has signalled Odisha's emergence as a strong force in the 'Global Sports Arena'. When (Ranchi) Jharkhand, which was to host the event earlier, pulled out in the last minute, Athletics Federation of India (AFI) was in deep trouble and the country's pride was at stake. It was at this crucial juncture Odisha took up the challenge to roll out the red carpet to host the Championship.
The 90 day challenge which Odisha took up and successfully executed led to the complete facelift of the Stadium converting it to world class infrastructure. The completion of two new world class synthetic tracks, state-of-the-art high mast floodlights, 3 lakh sq kms of grass turfing, renovation and refurbishing of the entire stadium as well as decking up the city for the event in a record time, is worth mentioning. Creating sports infrastructure in just 90 days and meeting the tough yardsticks of International Association of Athletics Federations (IAAF) was no mean achievement.
Odisha has added another feather by organising Men's Hockey World League Final in Bhubaneswar last month. What are the other future events Odisha is going to organize in coming days?
Odisha has created history by hosting the Men's Hockey World League Final in December 2017. After the Hero Men's Champions Trophy 2014, this was one major event in World Hockey successfully organized in Odisha. Bhubaneswar hosted 8 world's best hockey playing countries in the concluding chapter of the HWL Final. The 11 day hockey extravaganza which saw Australia as champion and local favourite India as the bronze medal winner catapulted Bhubaneswar as the lead sporting hub of the nation.
The International Hockey Federation (FIH) also confirmed that Hockey Men's World Cup 2018 will be held in Bhubaneswar in December titled as 'Odisha Hockey Men's World Cup Bhubaneswar 2018'.
Bhubaneswar is all set to see much more Football matches as Jamshedpur FC will host Bengaluru FC as part of Indian Super League at Kalinga Stadium this February.
Odisha also organized last month Tribal Sports Meet-2017, a landmark initiative and first of its kind in country to promote sporting talents among tribal youth. This was organized across 119 blocks and sports competitions held in eight disciplines with over Rs 1.13 crore prize money.
The Chief Minster had announced that Bhubaneswar will be developed as a sports city with best of the infra facilities. Major stadiums in different cities will also be built. What are the plans actually?
With the rapid growth of Bhubaneswar as a major sports destination, the State government has recently announced setting up of 'Kalinga International Sports City' in the capital city of Bhubaneswar which is also being developed as Smart City of future. There are also plans to build four satellite stadiums in Cuttack, Sambalpur, Berhampur and Rourkela with world class infrastructure to create opportunity for international sports events. Besides, Integrated Sports Complexes will be established in other major cities of the State.
The Sports department wants to develop two sports museum in Bhubaneswar and Rourkela. What are its objectives?
A sports museum for the 22nd Asian Athletics Championship – 2017 will be established at Kalinga Stadium, Bhubaneswar with the objective to showcase Odisha's achievement in successful organisation of the Championship and also focus on promotion of sports within the State. The museum will act as an educational hub for all the stakeholders.
A separate sports museum for Hockey will also be set up at Rourkela for showcasing the history, glorious legacy and growth of Hockey in the State in general and Sundergarh in particular.
What is the objective to establish Odisha Sports Development Fund and how it is being used?
The objective of creating Odisha Sports Development Fund (OSDF) is to supplement and complement the mandated activities of the Sports and Youth Services Department by way of providing additional financial resources in case of inadequate or absence of budgetary provision for the desired activity. The expenses met under OSDF are for activities which are important to be undertaken for the larger interest of sports in the State but are not covered under the ambit of existing scheme/programme.
Kalinga Lancers and Hockey are Odisha's priorities. What are your plans for?
Odisha has been the nursery of Indian hockey and the State Government is steadily working towards it. Steps are being taken to improve sports infrastructure in hockey-centric areas. Steps are being taken to upgrade the facilities at Kalinga Hockey Stadium as per International Hockey Federation (FIH) standards.
Regions of Sundergarh and Rourkela where children are naturally gifted and hockey is genetically encoded in them. The State Government also supports the conduct of Biju Patnaik Rural Hockey Championship which happens to be the largest rural hockey championship in the country.
How are you planning to promote other athletics other than Hockey?
The Government has been endeavouring to develop the sports infrastructure and create champions in various sports disciplines. The Government of Odisha has signed an Expression of intent (EOI) with the International Association of Athletics Federations (IAAF) and the Athletics Federation of India (AFI) for the establishment of a High Performance Academy in Kalinga Stadium. This was the first occasion when the International Association of Athletics Federations (IAAF) partnered with any State government in the country for developing the academy for better training of athletes.