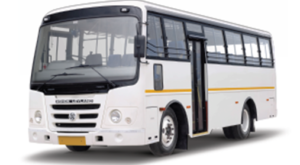 The country's second largest commercial vehicle manufacturer Ashok Leyland, will provide the Karnataka State Road Transport Corporation (KSRTC) 3,000 new buses, an order worth Rs 650 crore.
Leyland will start delivering the buses in August through which KSRTC will replace its ageing fleet and  use them in new routes.
 The company will provide buses for the Karnataka Sarige, Rajahamsa, non-AC sleeper and 'midi' categories of the Karnataka State Road Transport Corporation (KSRTC).
Other buses will be distributed among the North-Western Karnataka Road Transport Corporation (NWKRTC), Bangalore Metropolitan Transport Corporation (BMTC), and North-Eastern Karnataka Road Transport Corporation (NEKRTC).
A Memorandum of Understanding has also been signed between KSRTC and its counterpart in Kerala to run buses on five additional routes.
The agreement also allows for exemption from State taxes on 250 buses annually which are operated on casual contract basis during the Sabarimala season, summer season, various festivals.
KSRTC can now operate new services on five routes covering 4,314 km. They are Bengaluru-Pattanamthitta, Kundapura-Thiruvananthapuram, Kundapura-Kottayam, Manipal-Ernakulam and Kollur-Guruvayur.
Get a chance to meet who's who of Smart Cities ecosystem in India including key policymakers from Central and State Governments. Join us at Smart City Conclave, Kochi on 18 August, 2018 to explore business opportunities. Like and connect with us on Facebook, Linkedin and Twitter.